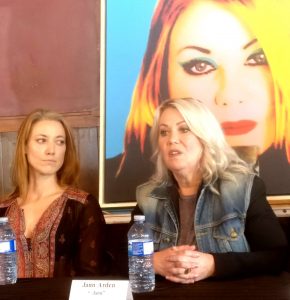 CALGARY — "This is the hardest work I've ever done," says Jann Arden.
The 56-year-old singer/songwriter is taking questions from a gathering of reporters and media influencers on the set of her upcoming series Jann. While an exact date has yet to be announced, the Alberta-based, six-episode comedy will premiere later this season, perhaps in March of 2019.
Arden is flanked by cast and crew at a long table inside a log cabin. On this day the cabin is doubling as a press conference room. The set is in the the middle of a snowy forest about 40 minutes west of Calgary.
Earlier, reporters huddled outside in a media tent watching and listening to Arden shooting a scene inside the main house on the lot. Heartland, North of 60 and, over the years, many other Alberta-based productions have taken advantage of this picturesque setting.
Arden is being directed to fold a fitted sheet, something nobody seems able to do, ever. Co-creator Leah Gauthier (Real Housewives of Vancouver) says they actually looked up videos of Martha Stewart on YouTube to get instructions, "and even she didn't seem to have it down completely."
"Oh Geez, eh?" Arden says between takes. "Sheet happens. Holy sheet!"
Arden is playing an exaggerated version of herself and that helps, she tells reporters. "It's not like I'm taking on Ibsen." There are a lot of similarities; the character and the singer both grew up and live minutes from where this show is shot — a point Arden insisted upon before production began. Some details are re-arranged. In real life, Arden has a brother; in the show, she has a younger, more grounded sister (played by Zoie Palmer). Both Arden and Jann are dealing with a mom who has Alzheimer's (played in the series by Anne with an E's Deborah Grover), although the disease has progressed to a more sorrowful degree in real life.
"Jann" is also much more of a "once was" on the series, something Arden was happy to sign off on as she saw the comic possibilities presented by Gauthier and showrunner Jennica Harper (Cardinal, Motive). Think Matt Leblanc's self-deprecating joke on himself in the UK series Episodes.
Arden has impressed in TV comedy roles before, including multiple episodes of Rick Mercer Report and, going way back, Dave Foley's True Meaning of Christmas Specials. This time, however, she's No. 1 on the call sheet and being asked to play scenes both deeply touching and hilariously funny. Add to that trying to juggle a "block shoot" schedule (shooting scenes from several episodes in the same location on the same day) and Arden has truly been thrown into the deep end.
While she acknowledges the hard work, her colleagues all praise her acting chops. "Forget singer, this a true actress," says Jason Blicker, who plays Todd, Jann's manager. Director Ron Murphy (Wynonna Earp) says Arden has made the transition from singer to actress remarkably well, memorizing lines like a pro as the 19-day shoot gallops along.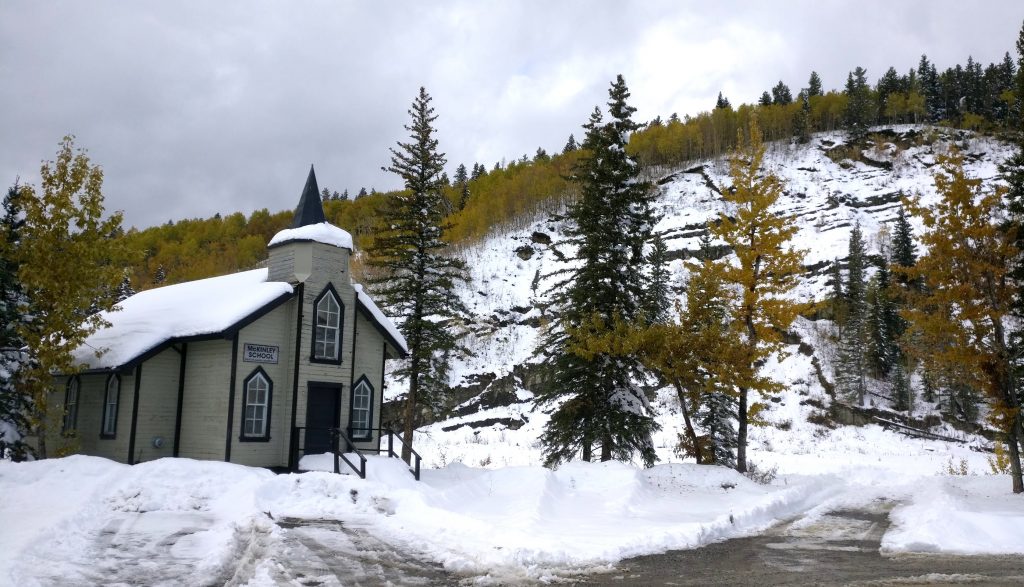 Being close to home was a deal breaker all along for Arden, who makes visits to her mom a priority. She also feels strongly about contributing to Alberta's production scene.
Our shuttle bus driver, "Momma Dawn," says film and TV production does seem to be ramping back up in Alberta despite a move by the provincial government to cap incentives. Besides helping out on Heartland Dawn has recently worked three weeks on the Netflix reboot of Lost in Space. That series temporarily shifted from Vancouver to Drumheller, Alta., in order to take advantage of the region's other worldly landscapes. The so-called "Dinosaur capitol of the world" is famed for its Drumheller Hoodoos, sandstone pillars that look like giant mushrooms. Will Robinson's robot friend would yell "Danger! Danger" if the crew ever got too close to the mushroom caps, which take millions of years to form and protect the spooky stem structures.
Dawn calculates that every hotel in the region was filled with over 400 crew members brought in — some from Vancouver and Saskatchewan — to shoot the scenes and dress the sets. "It was supposed to look like the driest planet in the universe," says Dawn, who adds a rare rainfall kept crews sweaty maintaining the desired dry look.
While fun for visiting reporters (deer and a herd of cows crossed paths with our shuttle bus), the weather in and around Calgary was putting a chill in the Jann production team. An early and surprisingly robust snowfall during the press visit meant that crews had to paper over windows and adjust lighting to hide outside snowfall during scenes shot in Jann's cabin in the woods. An exterior scene scheduled for Friday — the final day of shooting — was likely going to call for some artificial turf. "It's supposed to be green outside," says director Murphy.
There wasn't any real wiggle room beyond that Friday cut off. Arden's other job meant she had to travel to London, Ont., Thanksgiving Sunday to embark on a 29-city tour. The concerts start Wednesday, Oct. 10 in London and continue with dates in Manitoba, Saskatchewan, Alberta and B.C.
Arden says she doesn't expect to chat with fans about her upcoming TV series on her "These are the Days" tour because they haven't seen it yet. "There'll be plenty of other things to talk about," she promises.