Last week (Oct. 1-7), the new TV season came smack up against one of the busiest times of the year in sports (start of hockey, baseball playoffs, college and NFL football). The Kavanaugh hearings south of the border also seemed to distract Canadian eyeballs. Here's a look at the start of last week in terms of overnight, estimated ratings data. Keep in mind the final Live +7 and streaming data is factored in will boost viewership for most of these scripted shows, some by 20 or 30 per cent:
MONDAY OCTOBER 1
CTV's night started relatively slowly with the second year, relocated drama The Resident (981,000). The rookie reboot Magnum P.I. followed at 9 p.m. with 846,000 overnight, estimated viewers, down almost half a million from it's opening one week before. Seems mustaches do matter. CTV rebounded at 10 p.m., however, with the top-draw of the night: The Good Doctor. The second year medical drama drew 1,639,000 viewers, up 130,000 from the week before.
Global premiered two US network comedy imports at 8 p.m.: Cedric The Entertainer's The Neighborhood (709,000) and  Canadian showrunner Tim McAuliffe's Happy Together (502,000). Comedies generally start slow, so give these two four weeks to find their levels. New drama 9-1-1 did a robust 1,232,000, with relocated Bull down 150,000 or so week-to-week at 1,057,000 in the overnights.
CBC saw it's Monday at 8 anchor drama Murdoch Mysteries gain 50,000 from the week before (786,000). Frankie Drake held steady at 450,000. Monday Night Football scored 663,000 for the KC vs. Denver game. Citytv waltzed off with 607,000 Dancing with the Stars viewers with new drama Manifest — emerging as the hit of the fall so far Stateside, managing just 439,000 in week two in Canada. The Voice was heard by 610,000 on CTV Two, with 299,000 spotting Alaska Bush People on Discovery.
TUESDAY OCTOBER 2
Global had a big night with four imported dramas: NCIS New Orleans picked up 905,000 viewers out of simulcast at 7 p.m. NCIS remains resilient at 8 with 1,534,000 viewers. The rookie drama FBI continues to soar with 1,626,000 tuning in — up close to 180,000 from it's debut the week before. New Amsterdam also gained off its opening week, bringing 1,537,000 to Global.
CTV was well back in second place with The Voice (988,000) followed by This is Us (1,016,000). Episode two, season three of the weepy NBC drama slid by more than 200,000 in Canada in the overnights.
CBC's comedy night hung in with Still Standing slipping slightly to 595,000 and 22 Minutes up two weeks in a row at 522,000 overnight viewers. The much heralded Baroness Von Sketch Show keeps getting clobbered this fall with just 224,000 in the overnights. UK import Hang Ups keeps living down to its name (140,000). As viewers dwindle down on the night, CBC's The National (370,000 at 10, 324,000 at 10:30) keep paying the price. CBC's highest rated series of the night? The half-century old Coronation Street at 7:30 p.m. (599,000).
Sportsnet batted 526,000 with the National League Wild Card Game. Citytv struggled with relocated drama The Gifted (252,000) and Lethal Weapon (372,000). Discovery saw 263,000 take the Highway Through Hell. FX's Mayans MC draw 176,000.
As the Kavanaugh hearings heated up, 253,000 turned to CNN in Canada to watch Cuomo Prime Time.
WEDNESDAY OCTOBER 3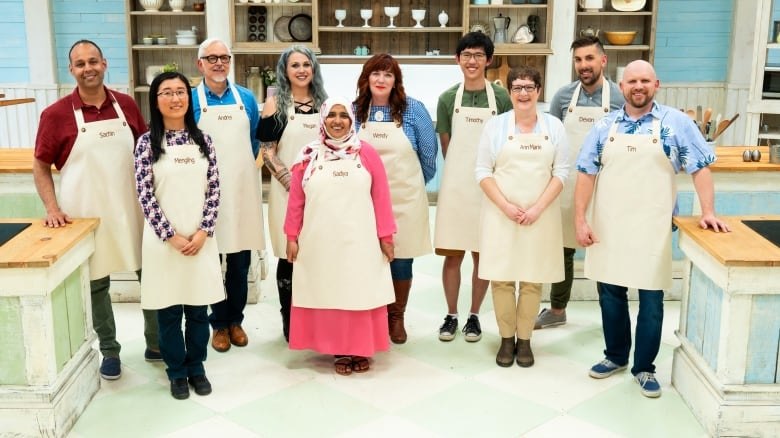 The No. 1 show on Canadian screens Wednesday night? The return of the NHL with 1,599,000 watching the much-vaunted  Toronto Maple Leafs squeak out a win over the Montreal Canadians. Another 726,000 stayed for Calgary's loss to the Vancouver Canucks. That all this came a day or so after the resignation of Sportsnet president Scott Moore is a bit of a baffler.
Global had the next big draw of the night with episode two of Survivor (1,338,000). Seal Team (769,000) and Chicago P.D. (893,000) saw so-so returns.
CTV's night started with The Goldbergs (501,000) followed by 473,000 fans of American Housewife. Grey's Anatomy, in its 15th season, is showing its age (868,000). Criminal Minds premiered for another blood-splattered season at 1,128,000 overnight viewers.
CBC held steady with the Great Canadian Baking Show (511,000) followed by the largely ignored UK import Vanity Fair 188,000).
Citytv's rookie import comedy The Cool Kids played to a cold 133,000. Modern Family sunk to 369,000 in the overnights. Single Parents will soon be down to single digits (242,000). A Million Little Things is now under the quarter million mark (223,000). Sportsnet One batted 343,000 with the AL Wild Card Game. Kavanaugh had 293,000 tuning in to Cuomo on CNN, with 291,000 sticking around for Don Lemon.