If it is still true that most new shows tend to find their audience level in Week Four — and who the hell knows anymore? — then Monday was a bad night for CBC's rebooted drama from the '90s.
Street Legal, starring Cynthia Dale (above right with Julia Tomasone), sunk to a new low Monday night of 208,000 overnight, estimated viewers across Canada.
Keep in mind these are overnights, not Live+7 totals. Street Legal was not, however, among the 17 shows CBC listed Monday as, "First Round of Early Renewals for the 2019-2020 Season." Dramas that did make the cut so far include rookie hit Coroner, Anne with an E, Burden of Truth, Frankie Drake Mysteries, Heartland and Murdoch Mysteries. Baroness Von Sketch Show, Kim's Convenience and one last season of Schitt's Creek were all renewed on the comedy side; still waiting to hear are long-running This Hour Has 22 Minutes and Workin' Moms. 
In its first four weeks, Street Legal has gone 376,000, 341,000, 306,000 and 208,000. Look for that downward trend to reverse next Monday night when Allan Hawco guests on the series.
Street Legal followed a rerun of Murdoch Mysteries at 8 on CBC (464,000). Overnight numbers for shows on rival networks the same night: CTV in prime went The Resident (1,118,000), Magnum, P.I. (782,000) and The Fix (850,000). Global's slate of imports went The Neighborhood (435,000), Man with a Plan (418,000), the night's most popular entry, 911 (1,336,000) and Bull (751,000).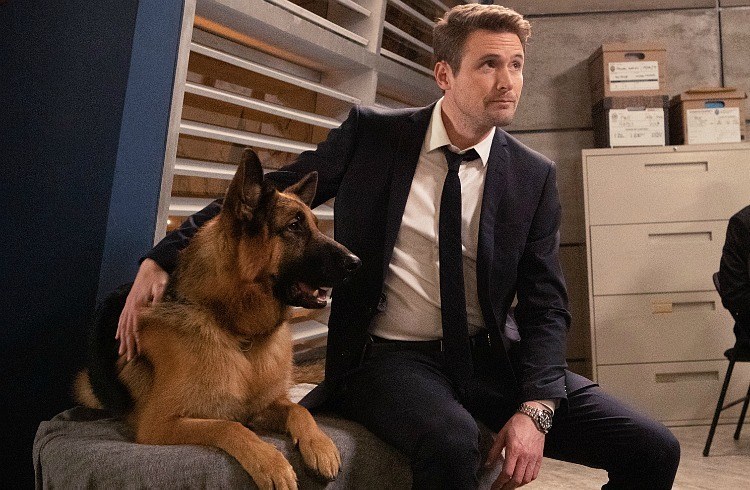 Monday saw the premiere of Citytv's new Newfoundland-based series Hudson & Rex (starring Diesel and John Reardon, above), which fetched 222,000 viewers. The new series The Murders got killed with 96,000 witnesses across Canada.
The Voice sang to 516,000 in overnights Monday on CTV Two. On specialty, TSN's Leafs-Panthers tilt faced off to 584,000. History dug up 270,000 with Oak Island. A Jays spring training tilt batted 248,000 on Sportsnet and WWE Raw wrestled with 239,000 on Sportsnet 360.
Sunday's overnight estimates in Canada went like this: Big Brother Canada (847,000), NCIS: Los Angeles (668,000) on Global; World of Dance (727,000), The Enemy Within (479,000) on CTV; The Nature of Things (322,000), The Fifth Estate (267,000) on CBC; The Simpsons (365,000), Bob's Burgers (319,000) and Family Guy (199,000) on Citytv and American Idol (378,000) on CTV Two.