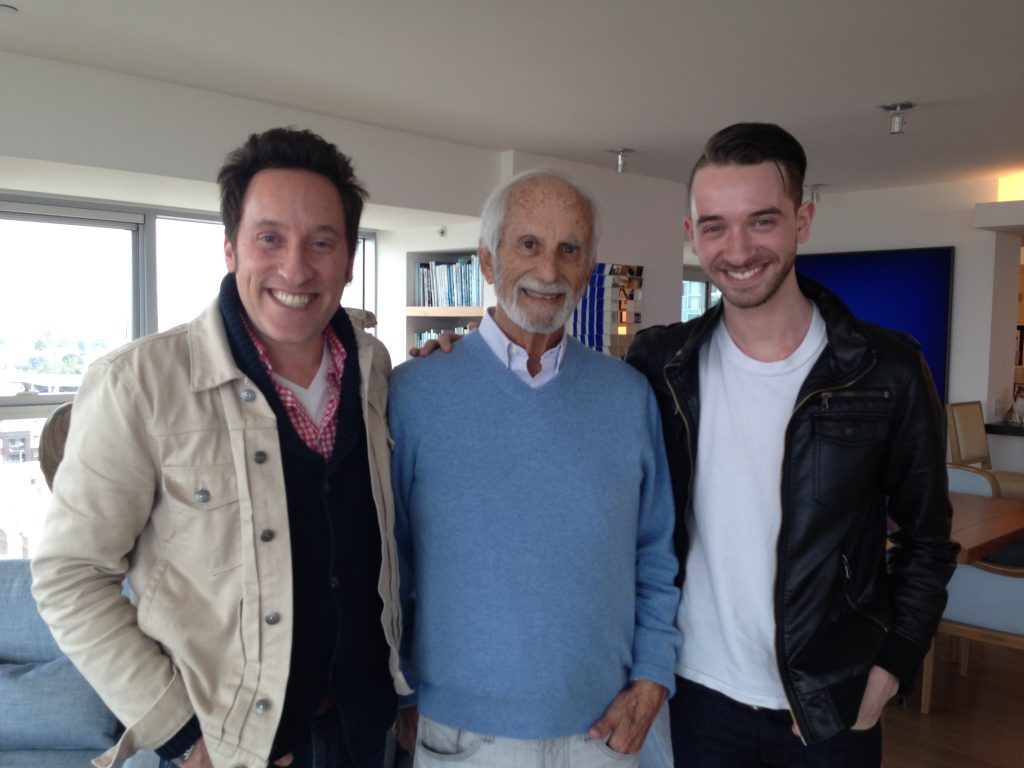 All together now (to the tune of the theme from The Brady Bunch):
Here's the story/of a man named Marshall/who grew up within three feet of the TV/Now his son sits/right beside him/forced to watch the entire run of The Bradys…
This is also the story of Marshall Jay Kaplan and his son Ben Kaplan, the father and son team behind the documentary "Viewer Direction Advised." A must see for both nostalgia buffs and child psychologists, it is being featured this weekend at the Toronto Jewish Film Festival.
Marshall has produced various reality shows for Canadian specialty networks, including Style by Jury, Totally Tracked Down and Colin and Justin's Cabin Pressure.
Quick story: I've been acquainted with Marshall for several years. Back when I was writing for The Toronto Sun, he called to pitch his services as a cartoonist to the stars. Kaplan used to grab the family TV Guide every week and draw caricatures in the style of the great Al Hirschfeld. He calculates he's drawn over 10,000 caricatures and counting.
He drew one of me which he sent with the pitch. I used to doodle a bit myself, and if there was caricaturing to be done I was going to do it myself so I thanked him and turned his services down. He went on to place cartoons in Starweek and other publications.
Flash forward many years. Our sons are now attending Ryerson University, both in the TV program. His son Ben and my son Dan become fast friends. After graduation, both worked together for a while at Vice Television in Toronto.
Both of these kids suffered under fathers who were somewhat immersed and obsessed with television. When Dan mentioned to me that Ben had made this father-and-son documentary and that I would probably relate to it, he was underselling it. It was pretty much like looking into a funhouse mirror.
"Viewer Direction Advised" (a play on the old "Viewer Discretion Advised" warnings that used to pop up on shows with adult content) opens with home movies of Marshall Kaplan as a child, basking in the glow of the family TV set. That's contrasted with shots two decades later of Marshall as a father spoon feeding The Brady Bunch and other golden oldies to young toddler Ben.
"Dad has been indoctrinating me with TV ever since kindergarten," narrates Ben (who also directed this doc). "He even made me sit on his knee and watch The Jerry Springer Show."
That alone might have sparked neighbours to call Child Services. Later, we see into the Kaplan's basement, where, as Ben says, "massive hoards — or, as my dad says, a 'treasure trove' — of TV memorabilia" is stashed.
There's also a trip to New Jersey and a Brady Bunch convention. Original cast member Christopher Knight (Peter), born in 1957, takes one look at Marshall Kaplan and his Brady caricatures and says, "Marshall, Marshall, Marshall!"
The lesson for me watching this, of course, is that parents maybe should ease off when it comes to jamming their culture down their kids throats. My Katie and Dan were the only two kids in their schools who knew who Fred and Ethel Mertz were, because — from the time they were bottle fed — I used to thread up a 16mm projector and show them prints of old black and white TV shows such as I Love Lucy.
The effect, though, is two fold: junior gets a pretty good pop culture history lesson, but your innocent offspring also winds up a bit out of their own time; a half-generation removed, as if caught in some sort of Star Trek or Doctor Who time/space conundrum. (It doesn't take Spock to see the irony of explaining these things with TV references.)
In the 90 minute documentary, Ben finally says to his dad, look, enough with all these childhood memories. Draw some TV stars from this century. Stop with all this Brady B.S.
What follows is Ben heading down to an intern job in Los Angeles. There's no escaping dad, however, who is waiting down there to give him a personalized tour of Hollywood. This includes stops at all the pop culture landmarks tucked into various corners of the Valley — including the actual exterior houses used in The Brady Bunch, The Golden Girls or even Modern Family.
[Marshall and me geeked out on all this on the phone Thursday. One day we will do a podcast.]
Dad is a very good tour guide. He points out to Ben the apartment building used as the exterior shot of Jerry's place on Seinfeld. (I always assumed that building was in New York.) He talks his way into everything, crashing studio gates so father and son can romp around a Sons of Anarchy set. Does he go too far sometimes? Ben is mortified when dad wants to shoot a video intro in front of the Modern Family house — especially when the old man keeps insisting young Ben remove the dry cleaning from the occupant's front door.
Trespassing concerns aside, these awkward moments are actually where this documentary grows beyond the level of an extended home movie. They spark two conversations: when should a parent let got and let their child establish their own culture and why did TV shows and personalities of the '60s and '70s have a stronger imprint on the generation of viewers raised three or four decades ago?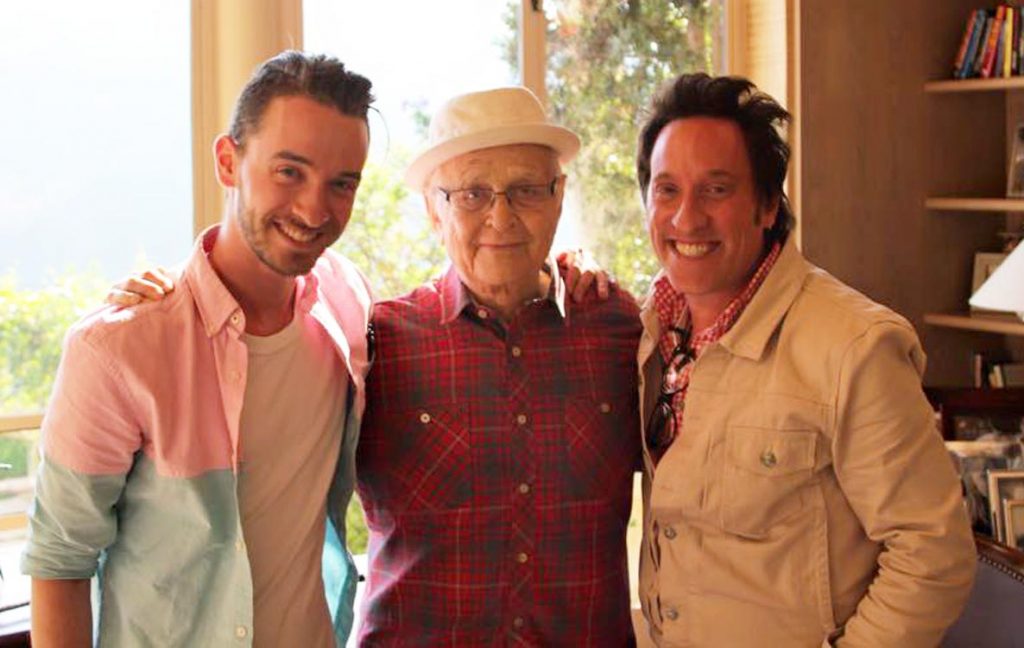 Elevating that conversation is input from various television luminaries including directors Jay Sandrich (The Mary Tyler Moore Show), Peter Bonerz (WKRP in Cincinnati) and Tom Cherones (Seinfeld). Another director, Mark Cendrowski (The Big Bang Theory), talks about how his own children can't related to a network series interrupted with commercials. Saskatchewan-born writer-director Burt Metcalfe (M*A*S*H) and director Joel Zwick (Full House) also weigh in. Even TV's Yoda, the great Norman Lear (All in the Family; The Jeffersons), invites the Kaplans into his home for a chat.
There's also valuable insight from Sarah Sharma, director of the McLuhan Centre in Toronto. They all stress that, once upon a time, TV brought families together; that there was a connection formed every week at the same time on the same channel that's just not as strong today on-demand on a hand-held device. Sharma likens today's TV connections to "a Tinder relationship." Lear, on the other hand, understood why the old ways worked on TV. "All we want to do," he tells the Kaplans, "is connect to each other."
It's all fathers and sons want, too.
"Viewer Direction Advised" has its Toronto premiere this Sunday, May 5 at the Toronto Jewish Film Festival. Follow this link for more information.