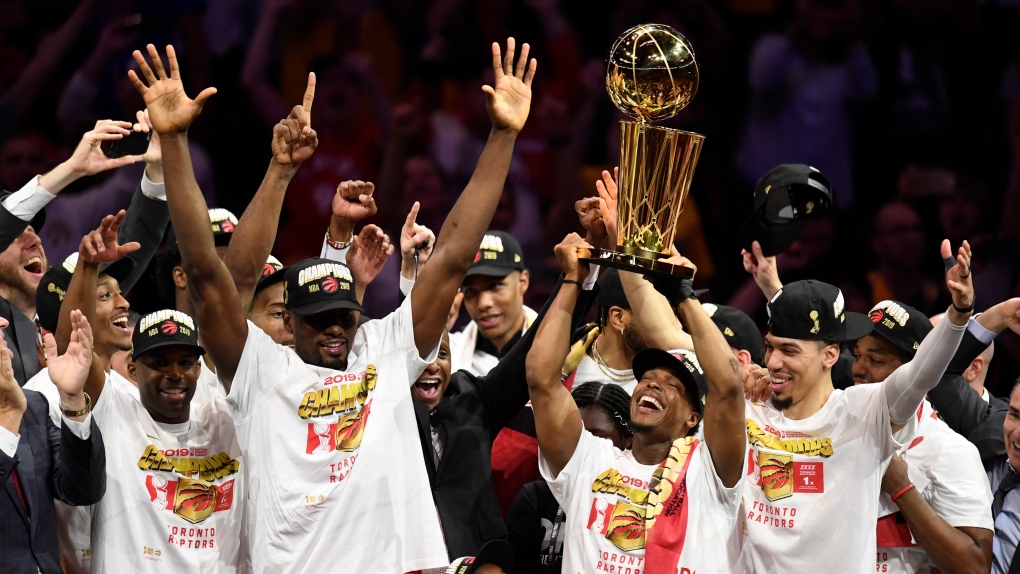 The great Canadian sports shift has reached the summit. The Toronto Raptors NBA championship run will stand tall atop Canada's Top 10 TV shows for 2019.
For sure the top two spots will be dino-mite numbers: Thursday's sixth and final game of the NBA finals, with Toronto victorious over Golden State, got the full Bell treatment. It drew 4,923,000 on TSN in overnight estimates plus an additional 2,315,000 on CTV for a total of 7,238,000 in English Canada. Factor in the RDS audience and the Canada-wide total is an estimated, average-minute audience of 7.7 million viewers, peaking at just under 10 million for the final few minutes of Toronto's 114 – 110 victory.
That's the most-watched broadcast of 2019 (soaring past the previous record holder, Friday's Game 5) and the third most-watched, non-Olympic TV event over the past decade.
The Fifth Game, broadcast Monday by Rogers (Raptors' co-owners Bell and Rogers took turns covering games throughout the playoffs) drew an estimated English and French Canadian audience of 6.7M on Sportsnet National, Citytv, Sportsnet One+ and RDS.
Other totals likely to be in Canada's Top 10 at the end of the year: the final NBA post-game broadcast Thursday, with an estimated 6,456,000 sticking around for the NBA trophy presentation on TSN and CTV alone. Then there is the Game 4 all-Canada total of 4.6M for Game 4 and 4.3M for Game 2.
The Raptors' victory parade down the streets of Toronto may also set a daytime record. The parade will be broadcast on CTV, CBC, Citytv, TSN, Sportsnet, CTV News Channel, CP24 and OMNI, starting at 9 a.m. Monday. I'm starting to regret saying yes to the Great Canadian Baking Show set visit Monday morning. Is the parade route anywhere near Windfield Farms?
Oh yeah — the 7th and deciding game of the Stanley Cup final. Remember hockey? Anyway, St. Louis Blues won their very first Stanley Cup, beating the Boston Bruins. The game was broadcast on CBC to an overnight, estimated 1,726,000 on Wednesday night, with 833,000 more watching on Sportsnet National. The English Canada total was 2,559,000. The Stanley Cup post-game presentation drew 1,191,000 on CBC and 507,000 on Sportsnet.
Hockey may recover its crown in the coming years, but it looks like that will now take a Toronto Maple Leafs – Vancouver Canucks final.