Rod Coneybeare, the puppeteer and CBC radio host who brought Rusty the Rooster and Jerome the giraffe so vividly to life over 24 season of The Friendly Giant, has gone to the big castle in the sky. He passed away last Thursday in Lindsay, Ontario. He was 89.
The CBC children's classic, which ran weekday mornings for 15 minutes, was the happiest, safest, most grown up show on television, especially if you were five years old. It all started with Bob Homme, a tremendous broadcaster who never made personal appearances so as not to disappoint his young fans by his ordinary height — even though he really was a giant.
Homme taught you trust. He made you feel good about yourself and others. The show was a hand-made marvel, with that simple paper mache castle and the drawbridge that was hand-cranked open every episode; the gentle harp music, played live in studio by harpist John Duncan (accompanied by Homme on recorder); the wee little chairs for two to curl up in, one to sit by the fireplace and one for those who like to rock.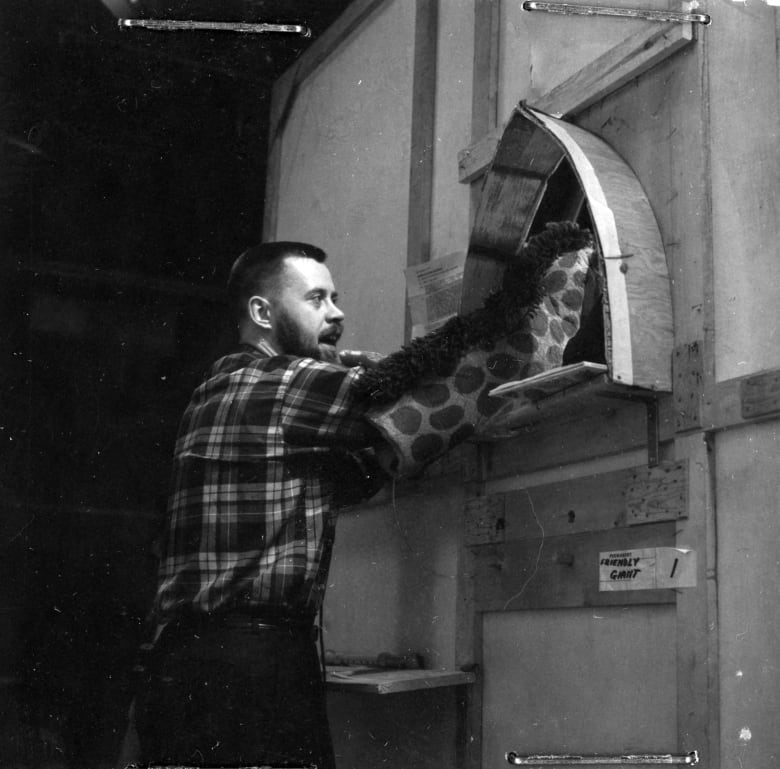 Coneybeare (left) split himself in two each show as Friendly's costars Rusty the Rooster and Jerome the giraffe. In later years, Nina Keogh brought other puppets on the show to life, especially the swingin' "Jazz Cats."
I met Coneybeare many years ago, likely at a CBC event. His own voice, as one would expect, was closer to Jerome's baritone than Rusty's falsetto. He told me that Homme's wife had bought the rooster puppet at a five and dime store. "Bob dressed him up by sewing on Rusty's polka dot pyjama top," said Coneybeare.
He praised Homme as a great actor. "I always thought of him as the Spencer Tracy of children's television. He never once talked down to his audience and treated them with total respect." The same could be said of Coneybeare's creations, Rusty and Jerome.
Coneybeare, who had sported a Beatnik-y bowl cut and a goatee when I met him, once told another reporter that he patterned Jerome's voice a bit after Jimmy Stewart. I suppose; I just remember the giraffe's crooked smile and the way his jaw flipped open and shut when he laughed. Coneybeare was remarkably dexterious working the two puppets simultaneously, especially considering much of the dialogue on the show was improvised between the two men.
Fred Rogers has been profiled in a great documentary available now on Netflix. Somebody ought to make one about Homme and Coneybeare, two men on TV who helped raise a generation or two of children throughout Canada.
Condolences to Coneybeare's wife Moira, their children, grandchildren and other friends and family.
It's sad when friends go, but Friendly, Rusty and Jerome would want us to look up; look way up. Now I'll close the big front door and pull up the drawbridge after you're gone. Goodbye. Goodbye.