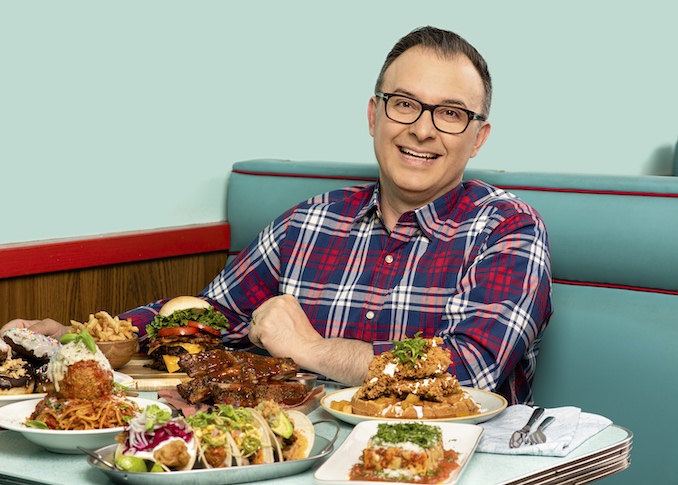 There's a great new science fiction-fantasy series airing now on Food Network Canada. It's called Big Food Bucket List.
The series stars friendly foodie (although he calls himself more of an "eatie") John Catucci. The affable actor/comedian built quite a specialty following over five seasons on his previous series, You Gotta Eat Here!
Why is it a fantasy series? Because Catucci and his Lone Eagle Entertainment crew do two things many of us are too friggin' scared to do right now: travel and go to restaurants. They're out there now on the front lines of the Second Wave, zipping though airports and exploring strange dining rooms — as well as kitchens.
No, it's not a period drama. Production on the second season started well over a year ago, pre-COVID, so the first new episodes (the ones I screened took place in Victoria, Montreal and Miami) was shot well before restaurants and airlines were shut down and masks became manditory.
Catucci is his gregarious self in these episodes, licking spoons and sampling ingredients in the kitchen and shaking hands with and high-fiving the chefs. Ever maskless, he plunges into tall, sloppy sandwiches at tables he shares with customers he just met and generally parties like it's 2019.
For now, viewers can live vicariously though him, he suggests. "Really, I think it's a break from what's happening right now. When things get back to normality, it's something we can all look forward to doing again."
Food shows aren't the only prodictions affected right now, of course. If, say, Cash Cab was still on the road, they'd have to pull over, right? Can you imagine five people piling into a van to play trivia now? They'd have to call it COVID Cab.
There is, however, a vicarious pleasure in seeing Catucci sink his teeth into a crispy fried fish sandwich with a tail still attached at Captain Jim's Seafood Market and Restaurant in Miami, Fla. Or enjoying new wave Jewish food such as a Smoked Salmon Tower at Arthur's Nosh Bar in Montreal.
As for Superbaba in Victoria, Catucci says they have, "the falafels of my dreams." He recommends the BC tourist town as a great spot for one mealtime in particular: "If you're a brunch person, Victoria is your city."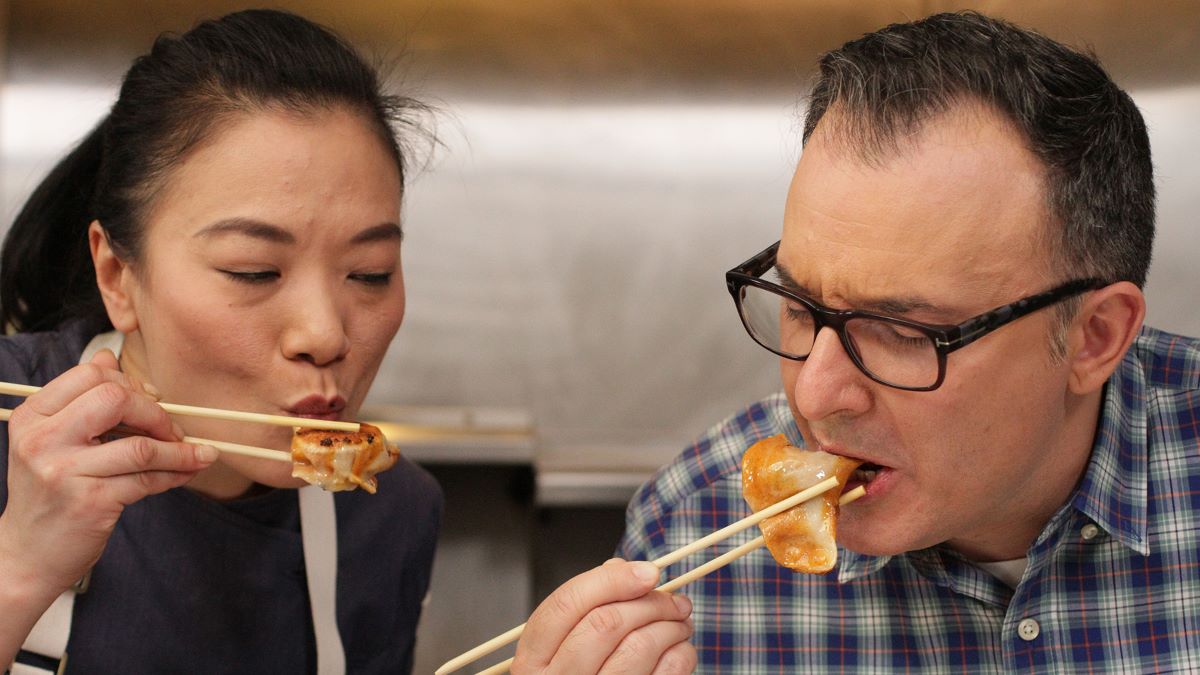 Still, you can't help but wonder: with favourite neighbourhood eateries such as The Tulip in the Beaches and Creole specialists Southern Accent shutting down for good in Toronto, will restaurants featured on the series still exist by the time most viewers finally get to them? Many showcased on Big Food Bucket List are mom and pop bistros dependant on loyal locals but also on hungry tourists. Normally this show would be catnip for customers but now in-house dining service is still stalled or limited. Hopefully, take out businesses can benefit.
And what about all that border crossing? Catucci, who travels with a field producer, director and small crew, says the airport experience has actually worked so far. "I have to give it up to the airlines who are doing the best that you can right now…they've limited the amount of people that can go through security, and everyone is wearing a mask all the time."
When airports and restaurants started shutting down last March, Catucci and company did get derailed part way through shooting this season's 26 episodes. As dining and travel started to open up again, the series had to change its approach — and so did Catucci.
"I'm a big hugger in the moment," he says. "There are even some episodes where I love it so much I give the chef a kiss." Not any more. "When we went back to shooting," he says, I'm just giving people elbow bumps."
The series is still on the road, finishing off production for this season (originally scheduled to end in August). Post lockdown, they had six more episodes to shoot, which meant travelling to 18 more restaurants.
Just recently the show went to Calgary and Edmonton, and Catucci says the priority was to find restaurants that have set up outdoor patio dining to provide better distancing. That was well and good, he says, but "we're going to get to a time and place soon and it's going to get cold."
Catucci says he and the crew were in Savanah, Ga., when the lockdown started and they had to drive back to Toronto. "The production world is a different animal now," he admits, noting how he and the crew are instructed to "distance when you can and take masks off only when you have to.
"There's lots of sanitizing gel," he adds. "It's almost like a condiment now."
Eek. Pass the ketchup.
This coming Saturday, Big Food Bucket List will visit the White Lily Diner in Toronto, the Beach Pea Kitchen and Bar in Lunenburg, N.S. and Kamonegi, a small Japanese establishment currently not open for dine-in in Seattle, Wa. Future episodes feature stops in Brooklyn and New York City, Charlottetown, Ottawa, Detroit, Orlando, Pittsburgh, Saskatoon, Tucson, Winnipeg, Portland and back in Toronto for a visit to Barberian's Steak House.
"Barberians was great," says Catucci, who had never eaten there before. "it's an old school steak house; dark wood, tablecloths, and the food is bang on. When you have a steak that's dry aged and they grill it up to perfection, my God it was good."
Big Food Bucket List airs Saturdays at 8 p.m. ET on Food Network Canada.