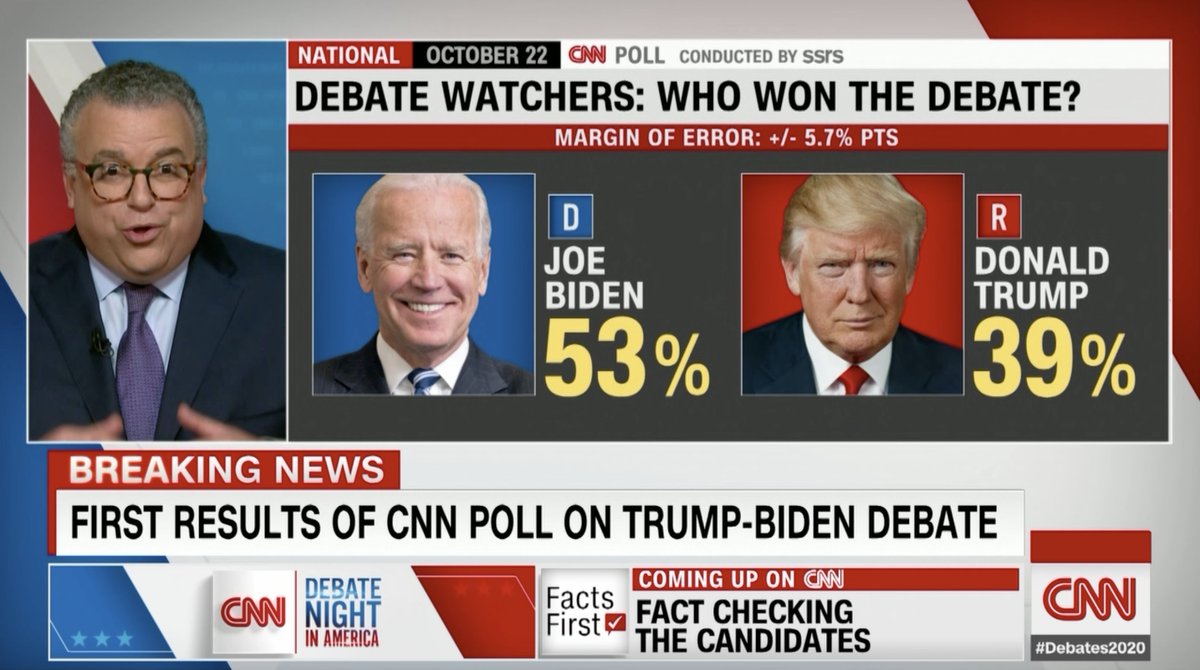 Talk about voter suppression!
For some reason, the data service Numeris doesn't include CNN in its weekly English Canada Top 30 total ratings reports. (Odd, because they track them in their daily overnight estimates.) If they did, the U.S. news network's coverage of the second (and final) presidential debate Oct. 22 would have shown that to be No. 1 for the week in the North. Just a shade under two million Canadians were watching on CNN.
With that in mind, look for CNN to also dominate in Canada this Tuesday as US election night coverage is estimated.
The election debate also drew large audiences on CBC News Network (352,000 viewers) and CTV News Channel (194,000). Beyond that, it shook up regularly scheduled programming, knocking Canada's most-watched series three-weeks running — The Masked Singer — right off the schedule. CTV, however, still had the second most-watched show of the week, the US reality import The Amazing Race (drawing just under 1.5 million Live+7 viewers).
Despite being move to a new night, The Conners returned strong in Canada. The ABC series, which is tackling the COVID-19 pandemic head on in storylines (and without a studio audence in production) drew 1,123,000 CTV viewers in its third season return, good for eighth place overall. English Canada's top-rated scripted series Oct. 19 – 25 were Global's Departure (No. 5; 1,285,000 total viewers), The Conners and CTV's simulcast of Transplant, a strong repeat in Canada at No. 17 with 838,000 total viewers.
The Top-10 Oct. 19 – 25, according to Numeris (and minus CNN), were as follows:
The Amazing Race (CTV) Wed 1,498,000
The CTV Evening News (CTV) Mon – Fri 1,475,000
Saturday Night Live (Global) Sat 1,474,000
CTV Evening News Weekend (CTV) Sat 1,371,000
Departure (Global) Tues 1,285,000
Big Brother (Global) Wed 1,246,000
Big Brother (Global) Thurs 1,171,000
The Conners (CTV) Wed 1,123,000
Big Brother (Global) Mon 1,113,000
CTV National News (CTV) Mon – Sun 1,103,000
There were solid audience levels this same week for three hour-long drama reruns: FBI (No. 22 drawing 772,000 on Global), Blue Bloods (No. 23 with 753,000 watching on CTV) and NCIS (No. 24 with 750,000 Global viewers). This would seem to indicate that Canadian viewers will flock back to these and other US drama imports when they finally return with delayed season premieres later ths month.
A second new third-season episode of Star Trek: Discovery boldly landed in 26th place the same week with 719,000 viewers on CTV Sci-Fi. Falling way out of the Top 30, however, was Citytv's simulcast of Dancing with the Stars, down to 27th place with 715,000 viewers. The lack of a boisterous studio audience for the long-running dance competition seems to have taken some of the zip out of that series.
Once again, no CBC series and no sports network programming made the English Canada Top 30 TV list — although it probably didn't help that CBC's sixth season of Battle of the Blades premiered opposite the US presidential debate.