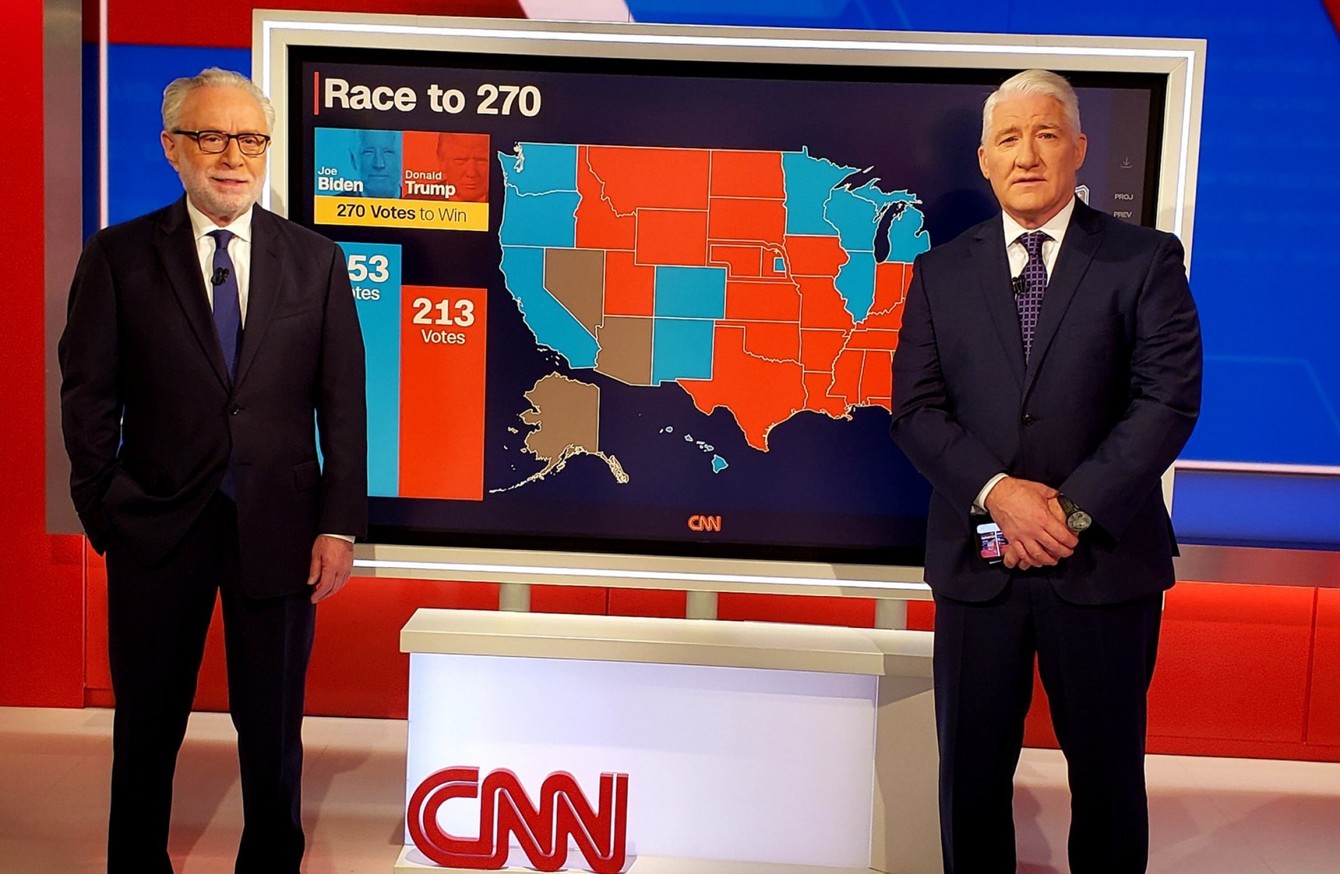 Are you like me? Are you starting to see Wolf Blitzer and John King in your sleep? Are you hoping to get "Out Front" with Erin Burnett? Are you expecting to get accosted by CNN White House correspondent Jim Acosta?
The dark reality show that was the Trump presidency has turned the Atlanta-based all-news network into the biggest story in commercial television– and not just in the United States.
In terms of coverage of Wednesday's inauguration of new president Joe Biden, CNN in America was No. 1 in all of television in both total viewers and the 25-54 demo. Not just among other news networks such as Fox News; all television.
According to a release from CNN Thursday, this was the news network's most-watched inauguration in its 40-year history, with ratings "growing triple digits from four years ago (2017) and up from 2009." The chart below shows the audience comparison:

CNN was also No. 1 during the 90-minute, star-packed, prime time "Celebrate America" concert.  Tom Hanks, Bruce Springstein, the Foo Fighters and others played to close to 6.7 million CNN viewers in America. See the comparison chart below: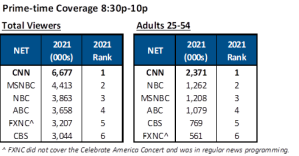 In Canada, throughout the presidential campaign and into 2021, CNN has also had a record year.A comparative look at Canadian broadcast and specialty channels in November, as measured around the time of the US election, showed that US conventional and specialty viewership had soared 40 per cent among 25 – 54-year-old viewers year-to-year and 39 per cent overall. Much of that growth can be attributed to CNN.
Conventional network viewership among English Canadians declined 12 per cent in prime time in the same November measurement period.
On the night of the U.S. presidential election last November, in estimated, overnight data, CNN drew an average minute audience of 1,546,000 English Canadian viewers over a six hour block– the second-highest total among all viewing options that week in the nation. Audience numbers peaked during the first two hours of election coverage. In the Eastern Time zone, there was a steady rise each half hour starting at 8 p.m. and straight through till 10 p.m., going from 2,023,000 average minute audience viewers to 2,115,000.
The CNN election night totals were double or quadruple what Canadian broadcasters tallied. The combined audence total on CTV and the CTV News Channel the same November night was 825,000 estimated viewers at 8 p.m., building to 833,000 at 9 and then 788,000 and 748,000 at 11 and midnight.
CBC's main network drew 378,000 from 8 p.m. to midnight with their American election overage. CBC News Channel averaged an estimated 281,000 viewers over a four hour block starting at 8 p.m.
The challenge for CNN and other news networks will be to keep that momentum going now that the Distractor in Chief is off the main stage.
CNN seems well fortified to make their own presidiential transition with a swing toward entertainment-based programming. This seems to be a savvy strategy as audiences, weary after a relentless torrent of news horrors, have to be ready to embrace less turbulent and devisive fare.
The network is set to unleash a backlog of documentary-style entertainment series and specials. They include a Canadian-produced six-part look at The Story of Late Night (scheduled for May), another documentary on the history of the sitcom and an upcoming documentary following the scientific progress towards COVID-19 vaccines. First up, however: Searching for Italy with Stanley Tucci, and Lincoln: Divided We Stand, both premiering Feb. 14.