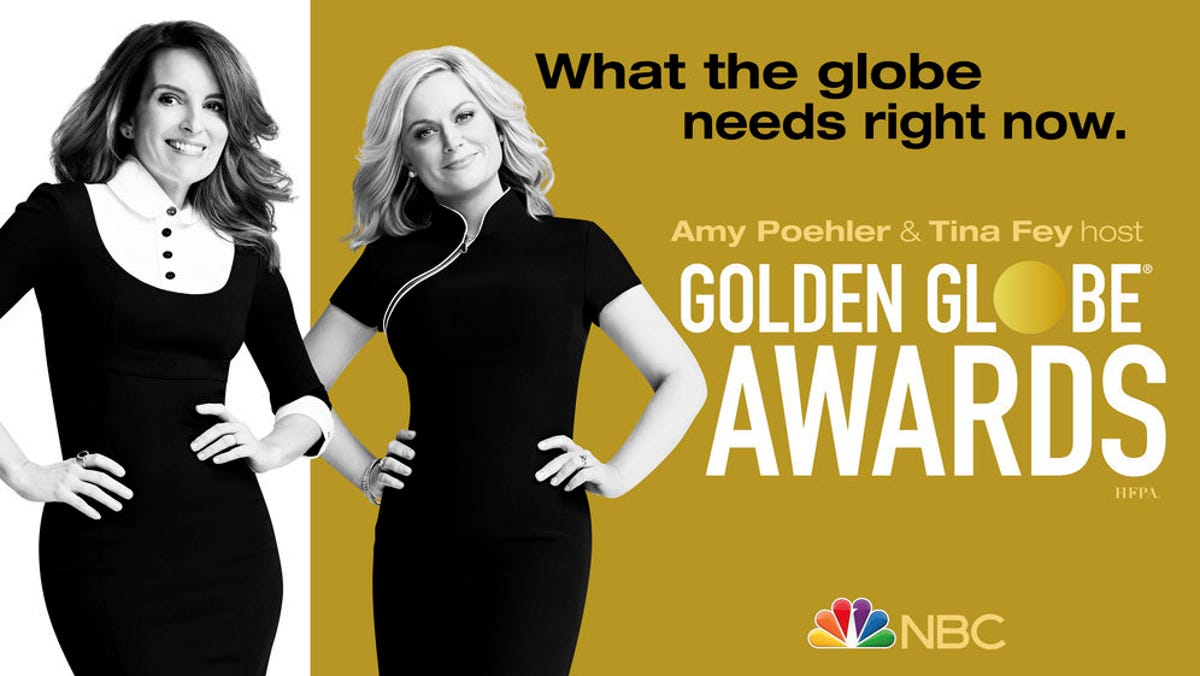 The Golden Globes has long been dismissed as a Fake Awards show, run by an elite mob of elusive hacks who give statues out to the highest bidders. That hasn't stopped viewers from tuning in each year — in fact, The Globes viewership has stayed steady while Oscar and Emmy viewership has seen steep declines in recent years.
That's mainly because viewers like watching drunk celebrities, especially if frequent Globes host Ricky Gervais is calling them on their behaviour. Two things then: no Ricky this year (instead, Tina Fey and Amy Poehler are hosting) and no celebs out front in the crowded Beverly Hilton hotel ballroom.
Poehler and Fey, in fact, are hosting from separate cities. Fey will be in New York and Poehler LA, and both will be addressing a smaller crowd of hand-picked front-line workers. So no "cut to Tom Hanks" wincing as Gervais makes another touchy Harvey Weinstein or Jeffrey Epstein crack.
Instead, trophies will be brought to the winners' homes or, as in the Creek case, tented gathering spots as on the Emmy Awards. No word yet if the couriers will be dressed up again as well-masked penguins.
One challenge for the Globes this year: few saw or have even heard of the movie nominees. It will seem more like the Canadian Screen Awards. Cinemas were shut down and some blockbusters that would have premiered, such as the new James Bond movie "No Time to Die" or Steven Spielberg's remake of "West Side Story," have been re-scheduled for late this year in hopes cinemas will be up and robustly running by then.
That has left a pretty tepid field. Among the nominees: "Mank," a film about the true writer of the 1941 masterpiece "Citizen Kane," Herman Mankiewicz I tried to watch but fell asleep half way through this needlessly black and white yawner. Note to award shows: films about great films rarely make great films. Even the supremely talented Gary Oldman couldn't not keep me involved. His Mank is in bed much of the picture, which is where I wish I had been when I was nodding off through it.
Other big nominees this year are the Borat sequel and Glenn Close in the career-ending "Hillbilly Elegy." Ye gads. The comedy "Palm Springs" was a nice bit of "Groundhog Day" fluff but that's all it was.
Better to stick with the TV categories because that's all we watched in 2020. Leading the pack there are The Crown, which should win Best Drama, and The Queen's Gambit, which should win Best Limited Series. Thing is, one ran maybe two episodes longer than the other. Isn't everything a limited series now? Who cares; both deserve statues.
Ted Lasso is such a wonderful, joyous, uncynical romp. Here's hoping it wins a net full in the Comedy category, especially lead actor Jason Sudiekis.
If that comes true, Eugene Levy will not repeat his Emmy win in the Best Comedy Actor category. Happy to be wrong, but I just think the Globes may lean away from Schitt's Creek Sunday night. The CBC/Pop TV series swept the Emmys in its final season and there was some chatter in the industry latter that the TV award show went too far. Schitt's Creek is wonderful but it may not be the greatest sitcom of all time.
I think Schitt's Creek standout Catherine O'Hara will prevail as Best Winner in the Comedy Actress category — mainly because she deserves it but also because we went to the same grade school, Our Lady of Peace in Etobicoke. If Kaley Cuoco wins instead for her breakout role on The Flight Attendant, weill, she didn't go to my grade school but that would be alright, too.
Other predictions for Sunday night's Globes:
Matthew Rhys, for Perry Mason, or Jason Bateman, for Ozark, will win Best Actor, Drama.
Best Actress Drama: Olivia Coleman, The Crown
Best Actor TV Comedy: Jason Sudiekis, Ted Lasso
Best Actor Limited series: Bryan Cranston, Your Honor or Hugh Grant, The Undoing
Best Actress Limited Series: Anya Taylor-Joy, The Queen's Gambit
Look also for special award salutes to Jane Fonda and Norman Lear; and for Ricky Gervais to trend again right after the awards for jokes not told on this year's event.