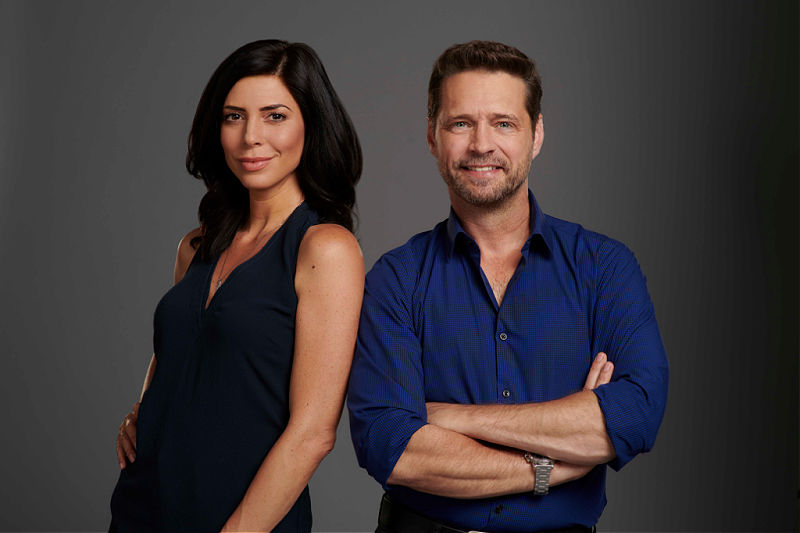 What is vying with naming Mike Richards the new host of Jeopardy for Worst Call in Television for 2021? Global's decision to announce, before it aired, that this would be the fifth and final season of Private Eyes.
The Jason Priestley/Cindy Sampson Toronto-based detective drama has owned the summer of '21, averaging over a million viewers a week. It has consistently been Canada's most-watched scripted series every week and ranks No. 2 overall Aug. 9 to Aug. 15 in English Canada.
All this without any simulcast boost and up against Olympic coverage earlier this summer.
It even outdrew the launch of a new import hour on Global the same night — the re-boot of Fantasy Island, which came in third. Here's a look at the top-10 in Live+7 totals among viewers 2+ according to Numeris:
CTV Evening News (CTV) MTWTF 1,338,000
Private Eyes (Global) Thurs 1,178,000
Fantasy Island (Global) Tues 1,133,000
America's Got Talent (Citytv) Tues 1,131,000
CTV Evening News Weekend (CTV) SS 1,019,000
Big Brother (Global) Wed 957,000
Big Brother Global) Sun 955,000
Masterchef (CTV) Wed 933,000
CTV National News (CTV) MTWTFSS 925,000
Big Brother (Global) Thurs 893,000
Private Eyes success this summer brings to mind another Canadian series canceled after five seasons by a Canadian network — Murdoch Mysteries. That show was immediately snapped up by CBC, trippled its ratings and enters its 15th season this fall. Over the past nine seasons, it is English Canada's most-watched scripted original.
Imagine an all-Canadian, back-to-back of Private Eyes and Murdoch Mysteries Monday nights on CBC. You don't need to be a detective to fighue that one out. Over to you, CBC.
The series finale of Private Eyes, titled "Queen's Gambit," airs this coming Thursday night on Global. Will it go out No. 1 overall? Don't bet against it.
As for the rest of the Top-30, Jeopardy! is proving the old addage that any publicity is still good publicity, ranking 13th and 15th for the week with 697,000 watching the nightly quiz show on Access indieNET and 658,000 on indieNET alone.
New import Family Game Fight with Dax Shepherd drew 633,000 to Global, ranking 18th. Alone on History+ was watched by many — 596,000 for 19th place. CFL Football found 591,000 fans averaged over three night on TSN for 21st spot. Another Global scripted original, Nurses, tended to 590,000 Sunday that week for 22nd place.
A week after the Olympics, CBC managed one show in the Top-30: The Great British Baking Show. It cooked to 573,000, rising to 24th place.