"It's very rare for a true crime podcast to do a sequel," says Steve Martin's character early in the second season of Only Murders in the Building. "We have a real opportunity here."
That they have and happy to report that Only Murders still kills. Hulu and Disney+ in Canada released the first two new season episodes of Tuesday. If you loved the first season, as I did, you'll love this great start to Season Two.
When we last left our heroes, Charles (Martin), Oliver (Martin Short), and Mabel (Selena Gomez) were in quite a corner. They had gone from triumphantly solving one crime (that of Tim Kono) to becoming prime suspects in the fresh murder of Bunny Folger (Jayne Houdyshell), the unforgiving Board President of the posh Upper West Side Manhattan building they all lived in, the Arconia.
Mable (or, as she's now referred to in the tabs, "Bloody Mabel") in particular is in a pickle. It was her knitting needles found in Bunny, and Bunny's blood was found all over Mabel.
The season begins with all three podcasters being interrogated and emerging as "personals of interest," which (not-so-strangely) sounds validating to Oliver. In trying to clear themselves, the trio break into Bunny's apartment, and a secret passageway is uncovered. So is a strange painting with ties to Charles's family history. His sorrowful parental backstory adds to the intrigue.
As in Season One, the recurring characters are wonderfully cast. The great Shirley MacLaine steals scenes early in Season Two as Bunny's mother, Leonora Folger. At 88, she looks very much at home in another Manhattan Apartment. Amy Schumer plays herself, moving into Sting's old digs. Schumer thinks there may be a series based on the podcast, and pursues the opportunity with Oliver.
Others who stepped up in Season One are back, including Tina Fey as Cinda Canning, already the queen of the murder podcast scene. Nathan Lane is also back as deli owner Teddy Dimas.
Among the new cast additions is Cara Delevingne who plays Alice, an art-gallery owner who invites Mabel up to look at her sketches. Gomez and Delevingne are apparently long-time friends in real life, and the connection is electric.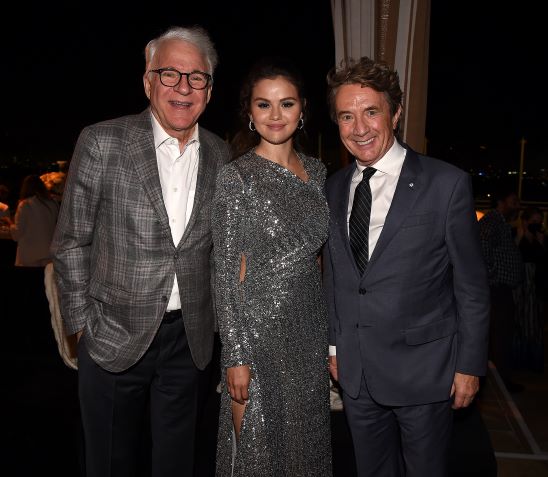 All this and Andrea Martin in future episodes? Beyond the two half-hours available to stream now, viewers will have to wait each Tuesday for new episodes to drop one week at a time. The series is so elegant, right down to the music and detailed art work in the opening sequences. The murder mystery elements are delicious and classic, with talking birds, secret elevators and switched paintings conveying all things Agatha Christie. John Hoffman is back as co-creator (with Martin) and showrunner, with Noah Levine and Kristin Newman part of the writers' room.
There are several meta winks in Season Two, with characters wondering if it all can live up to Season One. For me the series delights all over again and picks up speed. All the personality quirks between the multi-generational leads just get amplified. Short is just as vain, theatrical and ridiculous. Gomez is still edgy and curt (although more vulnerable). Martin is even more Steve Martin.
What more could you want?