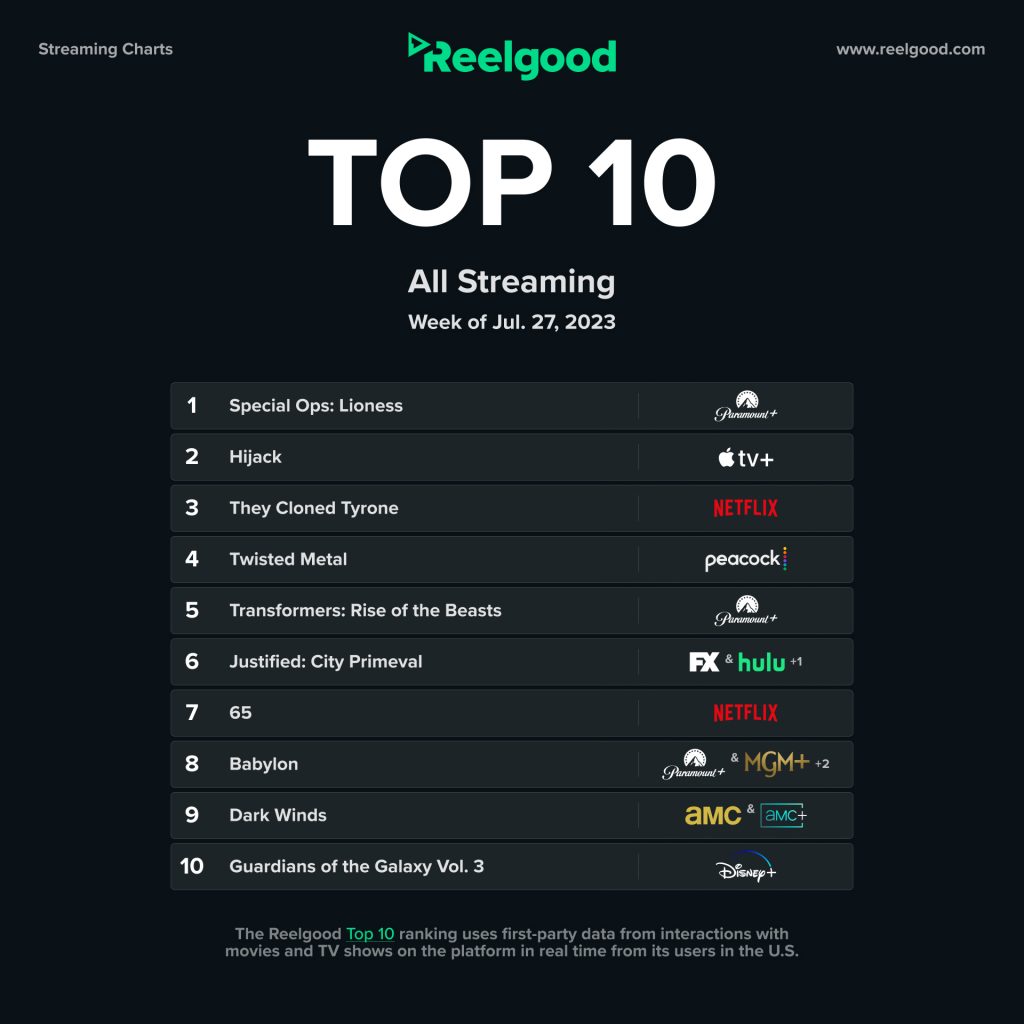 Most weeks, as regular brioux.tv readers are no doubt aware, we run a weekly Netflix chart showing the most-watched shows on that one streaming service.
Reelgood is a search engine that offers a similar weekly Top-10 list. Theirs, however, is spread over 100 different outlets and platforms and gives some indication as to the popularity of all the shows currently available to stream in the U.S. and the U.K.
Now, they have their own system for doing this based on what viewers are watching using their app. It is therefore a sample, not hard data compiled from all of the various streaming service. Since Netflix, Disney+, Prime Video, AppleTV+, Paramount+, Peacock, Max, Crave and others do not share viewing information, surveys by companies such as Reelgood should be considered for what they are — samples.
Nonetheless, their sample base is growing and their ranking is probably a pretty good indication of what are the most popular streaming shows of the week in North America.
Kudos, therefore, to Reelgood's No. 1 ranked series — Special Ops: Lioness, a Paramount+ spy thriller launched in Canada a few weeks ago. It features a Canadian in the cast: Laysla De Oliveira, a Toronto native of Brazilian heritage who plays a rookie Marine tasked with befriending the daughter of a suspected terrorist. Zoe Saldana, Dave Annable, Jill Wagner and Nicole Kidman all appear in the series.
Apple TV+'s Hijack, a series starring Idris Elba as a rescue agent trying to talk down a planeload of passengers, is in second spot for the week, with Netflix's They Clones Tyrone, a mystery/fantasy series about a government conspiracy starring Jamie Foxx, John Boyega and Teyonah Parris, in third.
Note that Paramount+ — a sponsor here at brioux.tv — has three shows on the Top-10 list for July 27 to Aug. 2: Special Ops: Lioness at No. 1, Transformers: Rise of the Beasts at No. 5 and Babylon at No. 8. Netflix has two; no other service has more than one.