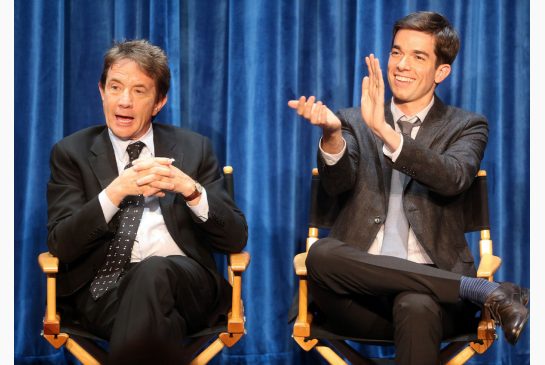 It is always a kick for me to grab a few minutes with any one of my comedy heroes from Canada's greatest TV export–SCTV.
So I quickly scrambled on stage at the end of the Mulaney press conference last July at the Beverly Hilton to scrum with Martin Short. The Hamilton native is quick and thoughtful in these sessions, very himself and never "on." He listens, banters and gives good quote.
He has his priorities, too. He'd flown in last July from his cottage in Muskoka to help promote the new comedy (premiering Sunday on Fox and Global). A day or two later, he was flying straight back.
There's too much to ask Short in the 13 minutes I shared with a few other reporters after the session. The Americans asked mainly about Ed Grimley and Jiminy Glick, one asked about Damages. The Canucks had a lot more to cover, although nobody brought up Rogers' short-lived misfire Canada's Got Talent.
I asked about Schitt's Creek, the CBC series starring his old SCTV pals Eugene Levy and Catherine O'Hara. Short hears it's hilarious. I also asked if he'd host the "Screenie" Awards for a third time. Sure doesn't sound like it. I'd heard that Short had to ditch his planned song-and-dance number at the start of last year's gala and substitute something less worthy. The last minute decision apparently didn't sit too well.
Robin Williams died after the summer press tour or I would have asked Short for a comment. Ditto Joan Rivers. A peer like Short–who also  simply loves show business–would have something special to say. I did ask about David Letterman's pending retirement from The Late Show. A one-man Ed Sullivan Show, Short has to be on Dave's Top-10 guests list.
"I think he's going to be so desperately missed that no one even understands," said Short. "The level of his mind and the brilliance of him in the moment, I mean, I go back to the first show after 9/11 and I don't think anyone else could have done that better…he's a real genius and he's gonna be deeply, deeply missed."
Short mentioned he'd been to dinner with Dave, apparently a rare privilege. "He's lovely and light and funny. You know, he plays a role, like everyone. Like we all do."
Short said one time when he was guesting on the show the audience in the Ed Sullivan Theater started laughing, seemingly for no reason. Short turned to Dave and said, "'Why are they laughing?' and he said, [imitates Dave], 'Nothing we've done.'"
Short thinks Stephen Colbert–someone he's also had dinner with–will be a worthy successor to Letterman on The Late Show. "I think he's gonna do so well, because I think the person who sits in that chair – we must believe that's who they are. That they're not leaving that chair and becoming someone else. We have to believe, – and Stephen Colbert is such a deeply lovely, smart man, I think that's gonna shine through and that's why we're gonna watch him."
Read more about Short and the new series Mulaney here at this feature I wrote this week for The Canadian Press.