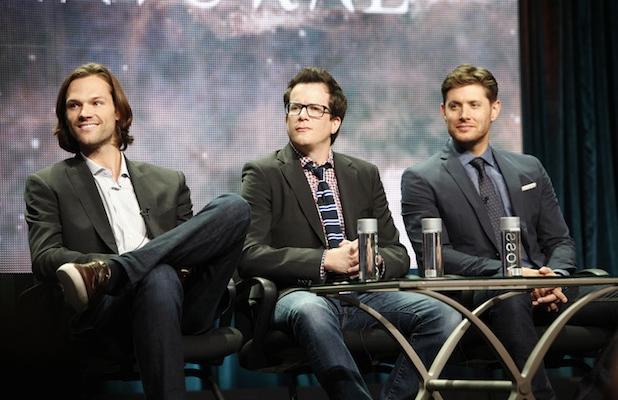 Supernatural has been on so long, it was originally broadcast on defunct U.S. broadcaster The WB. When it returns Tuesday night (on The CW and CHCH), it will begin its 10th season.
The series has been a steady gig for stars Jared Padalecki and Jensen Ackles, who play those beastie-hunting Winchester boys. Sam and Dean have been spiking vampires and other critters long before it was the thing to do.
The two actors are now 31 and 36. A big chunk of each of their lives has been spent in Vancouver, which has worked for them Padalecki told reporters last July in Los Angeles during the summer TCA press tour. "We remained out of the craziness that is Hollywood," said the San Antonio native. The distance from Tinseltown allowed the young actors to focus on the work "instead of partying," he added.
The WB publicity team wasn't always happy about that. Being followed stumbling in and out of clubs and cabs by TMZ is all part of promoting a show. Bad behaviour sells, so surviving 10 years up in Canada is even more remarkable for a series with such a young demo following.
Ackles said Vancouver was also a perfect production centre for the look and tone of the show. "We get nine months a year of overcast, blues and dark [skies] and that really plays into the majority of the show we try to produce." As Padalecki put it, "It's more fun hunting vampires in the doom and gloom."
Certainly The X-Files set the tone a few years earlier by making the most of Vancouver's darker skies. "It pulls an audience out of their comfort zone," figures Padalecki.
A lot of the action on "Supernatural" takes place at night, and Ackles feels Vancouver's relatively shorter days also buy the cast and crew extra time for night shoots.
He added that a side benefit from their years in British Columbia was the lifelong friendships made with cast and crew members. "It's a wonderful town full of wonderful people," he said.
Executive producer Jeremy Carver said the show continues "beyond any of our wildest dreams." He admitted he really didn't have an ending to the adventure in mind at this point, suggesting he was leaving room "for a happy accident" and was open to suggestions from the cast.
"You realize you just invited us to write the ending?" joked Padalecki.
There still are sci-fi and fantasy shows shooting in Vancouver, including Once Upon a Time and Continuum. Things are moving more in a comic book direction with Arrow and The Flash and—with the Canadian dollar dropping–there are rumours CBS's new Supergirl TV project could be a Vancouver production.