NEW YORK — One of the sure signs of spring is the annual promotion of the next fall TV season.
There are signs all over Manhattan, including illuminated ads on top of Yellow Cabs promoting the return of Will & Grace.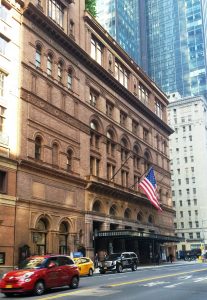 That's a straight-to-series reboot NBC will flaunt next week when all the US networks unveil their fall schedules to advertisers.
You could smell the hype in the air just walking past Carnegie Hall. The venerable New York landmark is once again the site of CBS' annual ad bash. NBC goes first Monday morning at Radio City Music Hall, followed by Fox that same afternoon at the Beacon Theater. ABC will have Jimmy Kimmel once again warming up the ad kids at Lincoln Center's David Geffen Hall on Tuesday; CBS goes Wednesday afternoon. The CW cues things up Thursday at New York City Center.  In between are similar fall launches for ESPN, Turner, Univision and others.
This week has been all about cleaning house. ABC announced Thursday that Last Man Standing is being cancelled after six seasons. There was an immediate backlash on Facebook about Tim Allen being targeted for his conservative views. To which I say, "Last Man Standing is still on the air??!!"
Dr. Ken is dismissed at ABC after two seasons. The Ken Jeong comedy was also helping Dave Foley make payments.
One I'll miss a lot just got canned: Man Seeking Woman. The Jay Baruchel comedy was daft and damn funny and God bless FXX for sticking with it for three zany seasons at least. Toronto will miss this production, as it will miss The Strain. Look for something brilliant from creator Simon Rich soon.
It sucks for Vancouver crews, but a couple of time travel shows, Time After Time and Timeless, are now history. Future shows can go back and revisit them.
ABC has renewed Modern Family for two more seasons, rounding things off at 10, which will put it four past its peak. NBC has re-upped three out of four of its Chicago-based Dick Wolf dramas (the new law one is still iffy). Fox has ordered a fourth season of Last Man on Earth. The CW says give us more iZombie and The Originals.
NBC has ordered a second season of Taken, which is good news for Toronto crews and Clive Standen. Not so good was news  Sleepy Hollow, co-created by Toronto's Phillip Iscove, was put out of its misery. Fox also axed the tremendously stupid second year series Rosewood. Frequency and No Tomorrow are out at The CW. That's right, there's no tomorrow for No Tomorrow.
NBC also just renewed Great News, which is great news Andrea Martin.
There's good news for a couple of Canadian ex-pats with Fox picking up the medical drama The Resident. Bruce Greenwood and Emily VanCamp are among the ensemble cast.
ABC announced earlier this week it plans to revive American Idol. I dunno about this. Bringing back shows that are still warm, such as Heroes, 24 and Prison Break, has been a bust in the age of Peak TV.