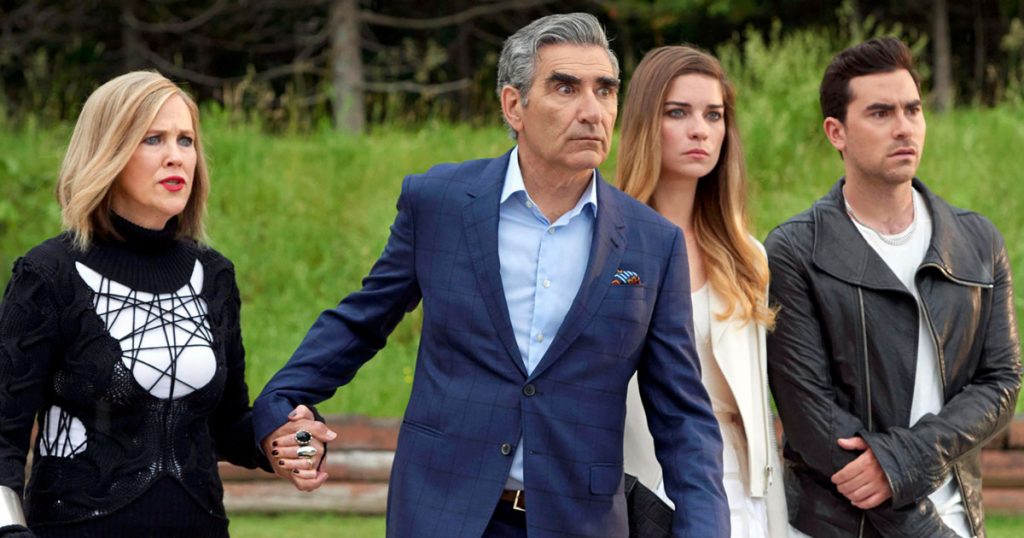 The month of March will bring several new Canadian TV shows to viewers, including the return of the decades old CBC drama Street Legal and the launch of new CTV sitcom Jann starring Jann Arden. The PR push for both these shows has already begun. Will audiences respond?
If recent ratings are any indication, industry watchers may need to manage expectations. Take Schitt's Creek, for example. That CBC comedy, now in its fifth season, has enjoyed great reviews Stateside this season as a Netflix favourite. The cast has been celebrated on various late night and daytime talk shows.
So how does Schitt's Creek draw now in Canada? That depends on which measure you check. A week from last Tuesday, Feb. 19, according to Numeris's traditional, overnight measure, the Eugene Levy/Catherine O'Hara sitcom drew 317,000 viewers. Across Canada.
By that same overnight, estimated tally, Schitt's Tuesday night CBC comedy schedule mates also aired to unimpressive returns. Starting at 8pm, Kim's Convenience drew 445,000 viewers. This Hour has 22 Minutes followed with 370,000. Two years ago, Kim's could lay claim to Canada's most-watched comedy averaging close to a million total viewers per week. 22 Minutes would routinely top 700,000.
The news is even less encouraging for rookie comedy Cavendish, which aired to an overnight, estimated 161,000 That same night. This is not good news for CBC's flagship newscast The National, which pulled an estimated (and pretty much total) 409,000 and 372,000 over its two half hours.
Were these shows getting crushed by big American network competition that night? No more than usual. Global generally wins Tuesday's and did so again with strong imports NCIS (1,584,000 overnight viewers), followed by rook hits FBI (1,086,000) and New Amsterdam (1,397,000). CTV was a strong second with Ellen's Game of Games (1,003,000), the third year drama This Is Us (933,000) and Nathan Fillion's cop drama The Rookie (1,065,000). Citytv was well back with Leathal Weapon (337,000) and The Gifted (222,000).
Maybe a big Leafs game that night was the spoiler? Not so much. The Leafs battled the St. Louis Blues before 523,000 Sportsnet One viewers. TSN did 386,000 the same night with a Hearts curling draw. Specialty's other top shows in overnights on Feb, 19 were Gold Rush on Discovery (409,000), History's Forged in Fire (232,000) and Sportsnet's weekly WWE Smackdown (227,000).
What is the oldest show on this list? That would be Jeopardy!, which pulled 387,000 all the way over to YesTV at 7:30 pm.
CBC can take heart in the fact that some of it's critically lauded shows are among Canada's most PVR'd. Schitt's Creek, for example, nearly doubles its audience once the Live+7 numbers are factored in. Kim's Convenience is also a show many viewers choose to PVR now, watch within a day or three later. Both are also streaming on CBC Gem, with older episodes bingeable on Netflix.
The low overnight tally, however, must be on the radar of many advertisers who still pay a premium for shows — and commercials — that are watched live in real time.
Looking at recent numbers, other CBC shows are currently "overnight challenged." On Wednesday, Feb. 20, Burden of Truth did 382,000 in the estimates, with the chilling, tainted blood tragedy Unspeakable drawing just 120,000. CTV, however, faces the same overnight homegrown challenge the same night, with The Launch — despite a big publicity buildup — limping in to 332,000 on a combined CTV and VRAK tally.
The big winner that same night, as it has been for eighteen years, was Survivor on Global. The reality evergreen drew 1,492,000 overnight viewers, proving live event programming can still dominate in this ear of Peak TV and cord cutting.
Thursday, Feb. 21, CBC homegrown faced the usual stiff challenge from Big Bang Theory and other imports. once mighty Dragon's Den opened the night with 349,000 in overnights, followed by Workin' Moms (289,000) and my own little comedy cult favourite, Little Dog (131,000). The weak lead ins are hammering The National (393,000 for the first half hour). Big Bang did 2,359,000 the same night and will add another million in Live+7 totals. CTV's acclaimed homegrown drama Cardinal pulled 517,000, edging Global's simulcast of Will & Grace (511,000) and Citytv's simulcast of The Orville (513,000) opposite. The Leafs skated to 519,000 in a battle with the Caps.
CBC's best night by far remains Monday's, with Murdoch Mysteries steady at 933,000 overnight viewers. look for it to top 1.2 in totals. Coroner continues its strong rookie run drawing 748,000 in the overnights. Great lead ins do make a difference; The National rose to 600,000 viewers from 10 to 11 pm the same night.
Saturday's Hockey Night in Canada numbers will get their own ratings column next Wednesday at Brioux.TV, but when a playoff-bound Leafs team can't crack a million in overnights, as their failed to do on Feb. 16 (skating to 870,000), that's more than a million broadcast viewers lost over five years — that's a culture shift.