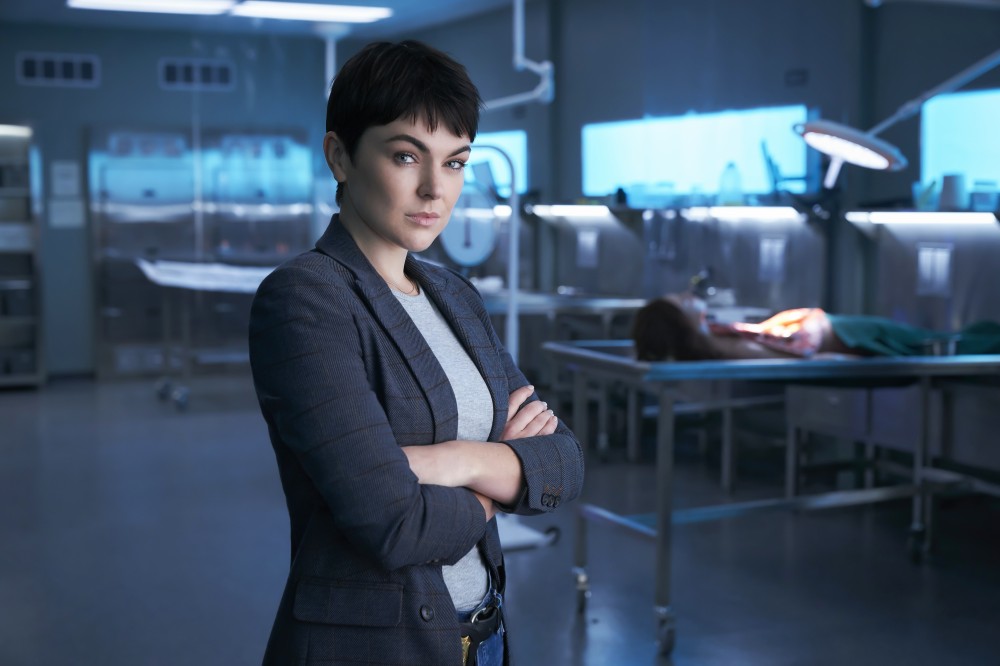 You've undoubtedly seen all those ads on bus shelters, billboards and even on television. Instead of declaring when Big Bang or Schitt's Creek or the new CBC series Coroner will be air, they simply say when each series will start "streaming."
Here's why: a report last April suggested that streaming will surpass broadcast viewing in Canada by 2020.
Yes, next year.
The big networks, reeling from six straight years of viewership and ad revenue declines amid escalating competition and accelerating cord cutting are trying to switch streams.  Bell, Corus, Rogers and CBC know the ratings war is no longer between each other, but with the over-the-top invasion led by Netflix, Amazon, CBS All Access and, soon, Disney.
It's why Bell has made it so you no longer need an HBO Canada cable subscription to stream all their acquired HBO content on "super" Crave. The major media companies are trying to paddle hard with the OTT international giants. You gotta at least have a paddle in the water if you're going to paddle up stream.
CBC has been out front (or less behind than the other guys) in this sea change, declaring five years ago that their priorities going forward are on the streaming end. They've already started streaming shows first, airing them later on broadcast, with their next digital premiere happening March 1 on CBC Gem with the shot-in-Parry Sound adventure drama Northern Rescue. Billy Baldwin (right) stars in the Don Carmody production, seen outside Canada on — wait for it — Netflix.
Here's my challenge: as someone who reports on this industry, it is getting increasingly difficult to report on who is watching what. Big advertising agencies and media companies are getting a better picture by looking at several books of numbers, but even they are still relying, in some case, on estimates. The competition, meanwhile, maintaining that they're strictly in the subscription game, keep their streaming numbers close to the vest.
The CRTC has told Canadian media companies to start sharing raw data numbers coming in from set top boxes. Rogers, for example, already knows exactly how many people are watching their programs from data collected by set top boxes in every Rogers household. What's needed for an overall industry picture is a system combining actual data from all the providers. Numeris has been tasked to sort it all out.
When I spoke with Numeris General manager Anita Boyle Evans for VideoAge International last month, she indicated that the process is still in the early stages. If you run a smaller specialty service in Canada right now, where your niche audience seems to fall between the Numeris survey cracks, the digital data convergence can't happen fast enough. The CRTC has set an October deadline.
In the meantime, consider all overnight estimates shared here to simply be indicators. It you're shocked at how low numbers are compared to two, three of five years ago for certain shows, consider that a quarter to a third of the audience PVRs and watches later and are counted in the seven day totals. How many more are streaming is also a growing part of the story.
Here then, are a few overnight estimates from so far this week, which is when CBC has launched its second season. (Check back in the coming days for later in the week results).
On Sunday, Heartland (left) returned for a 12th — albeit shortened — season to 636,000 overnight, estimated viewers. Keep in mind that was against a tight and exciting NFL playoff game. An estimated 1,530,000 late Sunday afternoon and into the evening on CTV saw The Bears plunk the ball off not one but two posts to drop a one-point decision to defending champions The Eagles.
The 76th Annual Grammy Awards that same Sunday will surely be declared the top draw of the week in Canada once the Live+7 totals come in. The overnight estimate tally was 2,771,000 CTV viewers.
Monday's second season premiere of Murdoch Mysteries on CBC drew 913,000, leading into the premiere of the new police-medical drama Coroner at 838,000. Look for both to vault over the million viewer mark by the time all the total data comes in. The Murdoch numbers who likely surge next Monday when a certain (ahem) TV scribe/blogger makes his speaking part debut.
Tuesday brought several comedies back to CBC plus one new addition. Kim's Convenience made its third season return to 691,000 according to Numeris' overnight estimates. That bested 22 Minutes (557,000), Schitt's Creek (589,000) and the new spooky comedy Cavendish (388,000). Comedies generally start slow and build.
Building big over at CTV the same night was The Conners (1,367,000), an explosive hit that gets better each week. Roseanne who? The big competition on Global Tuesday night was new episodes of NCIS (1,274,000) and New Amsterdam (1,308,000).
WEDNESDAY DATA UPDATE: Overnight estimates for two new Wednesday night premieres brought mixed results for CBC. The second season return of Burden of Truth, the Winnipeg-based law drama starring Kristin Kreuk, was recorded as 524,000 overnight viewers. Unspeakable, a dramatization of the tragic tainted blood scandal in the wake of the AIDs epidemic of the '80s, premiered to an estimated audience of 244,000. 
The fourth season of the Alec Baldwin-hosted import Match Game on CTV pulled 509,000 blank-ing viewers.
THURSDAY NUMBERS UPDATE: The third season of Catherine Reitman's relationship comedy Workin' Moms was hardly working for CBC. The series drew an overnight, estimated 160,000 viewers across Canada at 9 p.m. ET Thursday with a second episode at 9:30 up slightly at 181,000. That's less than the population of Brampton when I moved here in 1988.
Mom's did not even have to face the Death Star known as The Big Bang Theory on CTV. That kamikaze assignment fell to long time CBC staple Dragon's Den, which managed 308,000 8 p.m. viewers opposite both Big Bang (2,648,000 in the overnights) and Young Sheldon (2,077,000). At 9 p.m., CTV went with two Big Bang repeats, which each drew under a million.
There was also a Leafs game on TSN Thursday night, which drew 521,000. New and returning import comedies Schooled (269,000 on Global) and relocated Stateside Brooklyn Nine-Nine (248,000 on Citytv in its sixth season debut) may give CBC some comfort; despite their simulcast advantages, those shows didn't open either.