Comedies mixed with elements of horror have long been staples of movies and TV.
The latest example: Cavendish, a new sitcom created by Canadian stand-up/sketch comedians Mark Little and Andy Bush.
The former Picnicface co-founders have teamed on this shot-in-Nova Scotia and P.E.I. project, which premieres Tuesday night at 9:30 on CBC — right after the fifth season premiere of Schitt's Creek.
Little, 35, featured for several seasons as a nerdy science teacher on the CBC comedy Mr. D,  suggests Cavendish is "like if you dropped a comedy" into a small, and weird, East Coast tourist town.
In the video above, shot at CBC's Winter press launch back in December, I ask the two comedians to name the strangest towns they've ever visited. Bush sticks with Cavendish, P.E.I., and shares his reason why. Little singles out a place where he and another comedian were asked to leave after one patron at the event pulled out a knife!
To hear both stories, follow this link to my feature on the new CBC comedy in today's Toronto Star.
Tuesday night also marks the third season return of Kim's Convenience. The shot-in-Toronto CBC series earned rave reviews Stateside after it started streaming there last year on Netflix.
Also Tuesday, Trevor Noah headlines a Comedy Network special taped last July at the Just for Laughs comedy festival in Montreal.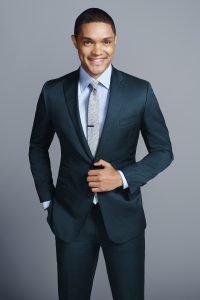 Trevor Noah @ JFL premieres at 10 p.m. ET/PT. I was part of the audience at the sold out Place des Arts auditorium when this long special was taped last July. If you've never seen the South African-born host of The Daily Show  live, he is dynamic on stage, a great storyteller who brings an athletic energy and spontaneity to his very funny routines.
The special is divided into two half-hour parts. Among the comedians on the bill: Alonzo Bodden, Michelle Butreau, Jim Norton, former Air Farce player Aisha Alfa, Sabrina Jalees and, appearing behind a podium as US president Donald Trump, impressionist Anthony Atamanuik.
Some of us wondered last summer when this taped whether the Trump joke would still play when this JFL special finally aired in January. Well, here we are and, sadly, yes it does!