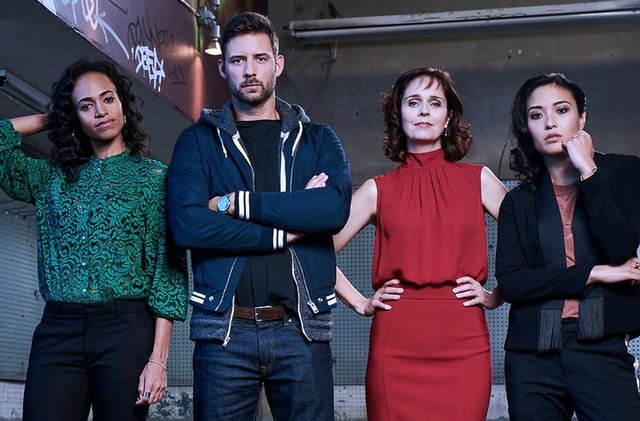 Back in the late '80s and '90s, Street Legal was CBC's answer to prime time soaps such as Dallas and Dynasty. Cynthia Dale was added to the cast in season two, tricked out with big hair and over-sized shoulder pads. The series found their junior Joan Collins and soared.
This slick reboot sees Dale reprise her role as Olivia Novak, now Bay Street Legal and fit and feisty in her fifties as a partner in a bigger, nastier law firm. In the pilot, she still wears the power heels and knows how to use them but eventually gets tripped up in a power struggle at her firm.
None of the original creator/producers are attached to this reboot. Instead, Bruce Smith, who brought raw realism and plenty of dramatic conflict to 19-2, is the new showrunner on this Street.
While an old fashioned prime time soap just wouldn't fly these days, the change in tone and approach is a bit jarring, especially if you were a fan of the original series. The old Street Legal was part procedural, part fantasy, part prime time soap. Like LA Law, an American legal drama airing around the same time, it was more about the love lives of the main characters and whether any of the lady lawyers would drop their briefs and become a solicitor.
Missing in the new version is any sense of continuity between the old show and the new. They should have simply called this new series Olivia Novak. It is as night and day as drama Lou Grant was to the '70s sitcom it was spun off from, The Mary Tyler Moore Show.
When Roseanne returned a little over a year ago, I was surprised at how much I connected with these characters from 25 years ago who seemed like family members I hadn't seen in a while. They were older but very recognizable, sitting on the same lumpy sofa or around the familiar kitchen table.
On the new Street Legal, however, you only catch up with one character, Olivia, who is in a whole new environment. By the end of the pilot, she's thrown out of that scene and thrust into a new one. As well as Dale conveys her fall from grace, I think we could have packed it all into a flashback and gone right to the new set up.
By the end of the first hour Novak winds up teaming with a new gang of spunky law kids. They're played by Cara Ricketts (The Book of Negroes), Steve Lund (Haven) and Yvonne Chapman (The Crossing). This is where the series truly starts, where it has the potential to become Mommy and The Millennials. Just don't call it Street Legal.
In a future episode, we'll catch up with Eric Peterson (Corner Gas: Animated) who pops in as an older and wiser Leon Robinovitch. Guest stars such as Allan Hawco (Republic of Doyle, Frontier) will be asked to approach the bench.
The jury will be out while this series settles into a place where Olivia can either kick ass like in the old days, or mentor the new kids into kicking ass for her. The danger while waiting for that to happen is that, in an era of so much choice, viewers may decide to settle out of court.
Street Legal premieres Monday, March 4 on CBC and CBC GEM. **1/2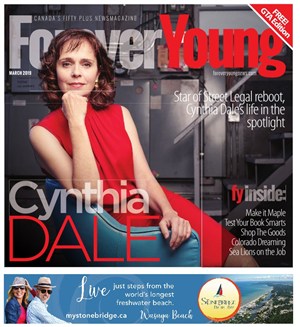 For more on Dale, follow this link to my Forever Young magazine cover story on the talented actress and fellow Michael Power – St. Joesph's high school alumni.