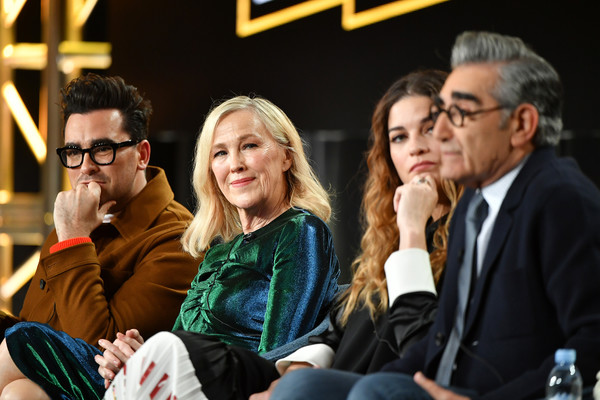 PASADENA, Calif. — Canada Day at TCA continued Monday afternoon with the Pop TV panel for Schitt's Creek.
This month, the series launched its sixth and final season in both Canada (on CBC) and the United States. The four main leads — Catherine O'Hara, Eugene Levy, Dan Levy and Annie Murphy — took a final bow before reporters Monday.
I started things off at the session by asking if the ending we'll get is the one the two Levy's originally envisioned when they created the series a half dozen years ago.
The younger Levy said it played out "more or less how I envisioned it." The writers, cast and producers knew two years ago that these would be the final seasons. The actors, including Noah Reid, singled out several times at the session, took the series beyond what the Levys' first envisioned.
Dan Levy said he always saw the series as being about "the opportunity to reset yourself." Don't we all wish, he suggested, "that we could be taken to a small town and just given the freedom to reset?" That really was the heartbeat of the show," he continued: "What do four people who had previously become so accustomed to expressing their feelings and bandaging their problems with money what does that look like, and what do the relationships look like when there is no money?"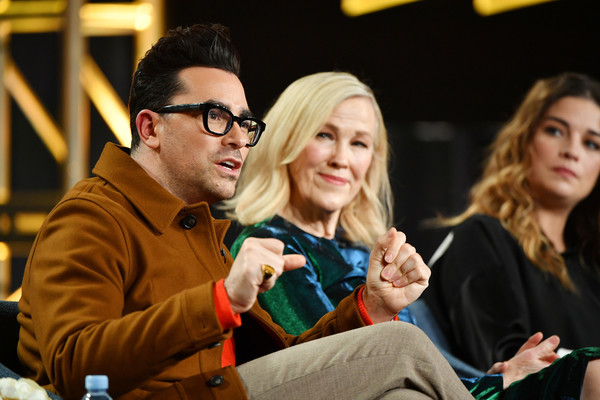 A teaser video was shown that included scenes of cast members at the final table read. In one scene, several of them were shown dabbing their eyes. Get set for an emotional exit for the Rose clan. "We literally could not get through it," said Eugene Levy.
The extravagant Rose family, as fans know, went broke and squatted for three years in the only asset not claimed by the IRS — a broken down motel. The actual building exists in Concord, Ont. Dan Levy says the lease to the building has expired, but he doesn't rule out a possible return to the Roses in some future feature or TV-movie follow-up.
O'Hara and Eugene Levy, of course, were two of the fearless young turks from Canada's greatest-ever TV series, SCTV. This later in life success has been a "nice way to bookend a career," said Levy. He later clarified that he's not retiring; although he does hope to play a little more golf. He pointed out in the post-session scrum that he really played the straight man on Schitt's and would be happy to continue more in that direction with future roles.
O'Hara told critics that she never got the kind of attention from SCTV that she is getting now for Schitt's Creek. She pointed out that SCTV was always kind of "under the radar, airing in 90- then 30- and sometimes 60-minute chunks spread across several networks in the late '70s, early '80s. "It was on and off," she added. "We were in Toronto and Edmonton, all over the place."
The people who originally watched SCTV, she added, "were stoned and watched it in college when it first came on at 2:00 in the morning."
Speaking of SCTV, Levy Senior was asked about the documentary of the series tht's in the works. Martin Scorsese brought the cast together at Toronto's Elgin theatre a year-and-a-half ago. Jimmy Kimmel hosted the gathering — which also included reclusive Rick Moranis — before two thousand adoring fans, including this writer.
Levy says he has no idea as to when Scorsese plans to release the doc, noting that the director of "The Irishman" has been kinda busy lately. He says he did see a rough cut of the Elgin show. "He'll release it when he thinks it's ready," says Levy.
Reporters praised Levy Jr. for the honest portrayal of love between Levy's character, David, and Reid's character, Patrick. Levy said it was an emotional moment for both actors to see the three-story high poster on Sunset Blvd. of David and Patrick kissing.
"I have never seen that before in my life," says Levy, who added that both CBC and Pop have been nothing but supportive about characters expressing their sexuality o the series.
"For me, it was really important to represent my life, to represent my friends, to represent my family, to represent people that I knew," said Levy. "And my life is not a lesson to be learned. My life is my life, and we're going to depict it as casually and as effortlessly as we possibly can."
Finally, the cast members were asked what souvenirs they claimed once production wrapped. O'Hara admitted she grabbed some wardrobe as well as three wigs. "I took a few because I'm not Moira. I can't pull it off like Moira can, much as I'd like to. I also don't have proper storage for wigs. You have to take care of them."