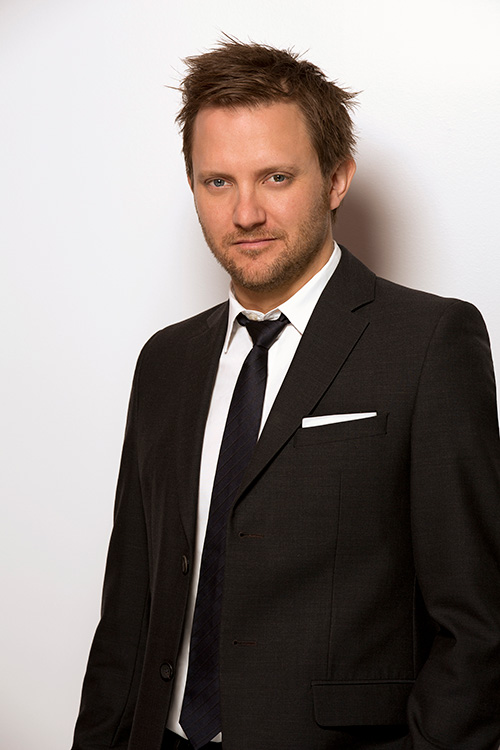 PASADENA, Calif. – Monday was a good day to be a Canadian attending the winter sessions of the 2020 Television Critics Association press tour.
The afternoon began with opening remarks from Pop TV president Brad Schwartz (right). One of the hottest network chiefs in America, Schwartz is a former CTV/Bell exec who steered Pop from cult status to six consecutive years of viewer growth. It's now a coveted comedy brand, leading to rave reviews from American critics, sold out cast appearances in major US cities and Pop's first Best Comedy Series Emmy nomination for flagship Canadian import Schitt's Creek.
Building on that north of the border boost, Pop last season launched the dark comedy Flack, which shoots in Canada and stars a Canadian – Winnipeg-born Academy Award-winner Anna Paquin. (Season Two begins March 13). Stephen Moyer, Paquin's husband and former True Blood co-star – also currently seen on CBC's just-launched Fortunate Son — directs the final two new episodes.
Too much Can-con? Not so fast, Tim Horton's breath: Schwartz announced Monday that his cable net is launching a new, shot-in-Toronto series: Best Intentions. It's a coming of age comedy from "American Pie" writer Adam Herz. Sarah Levy – sister of Dan and daughter of Eugene – is part of that cast.
Schwartz saved some jobs for Americans. He told reporters Monday that he just ordered an "irreverent and noisy" pilot called Mother Mary. Executive produced by Rachel Bloom (Crazy Ex-Girlfriend), Schwartz called it a modern twist on a famous story which asks the question: "What would happen if the most irresponsible and lazy human on Earth was impregnated by immaculate conception"? Bloom co-stars as the mother of, well, let's not give it all away.
And, of course, Pop also swooped in and rescued the comedy revival One Day at Time, cancelled after three seasons at Netflix. Pop presented a panel Monday featuring the stars and producers of that series, including comedy legend Norman Lear. The 97-year-old remains spunky and playful, sparring a bit on stage with the show's 88-year-old EGOT-winner, Rita Moreno.
Moreno said she first met Lear over 20 years ago when she auditioned to play the late Charles Durning's wife in a pilot. (It didn't sell.) Producer Lear gave her a backhanded compliment at the time, telling her to "get the hell out of here" because nobody would buy that she was old enough to play the part.
She was 66 at the time.
Moreno was not in a mood to be flattered. "I hadn't worked for two years," she told critics. She went back to her car and "wept for two hours."
Things seem to be working out just fine now. Moreno just finished shooting a revival of "West Side Story" for Stephen Spielberg.
As for Lear, he doesn't rule out doing a One Day at a Time script reboot from the original series as part of his Live in Front of a Studio Audience ABC hit with Jimmy Kimmel.
Asked if he consciously thought about social impact when he created All in the Family and a string of wide awake, era-defining comedies throughout the '70s, Lear just shook his head.
"I never sat down to cure America of its problems. I just reflected them."
NEXT POST: a quartet of Canadians take a bow at TCA for Pop's Schitt's Creek.