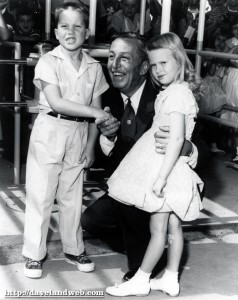 Dust off your Davy Crockett coonskin cap: July 17, 2015 marks the 60th anniversary of Disneyland. Walt Disney's original theme park down in Anaheim, Calif., opened on that July day in 1955 and Michael Schwartner and his cousin Christine Vess were the first two kids to visit.
I had the good fortune to visit the Magic Kingdom quite often in the mid-'80s and into the '90s. It's twice the attraction now, with California Adventure being the second gate, but I love all the eccentric little nooks and crannies of the original park. Thanks to then Disneyland PR manager Lorraine Santoli, I was there for the 35th anniversary in 1990. Michael and Christine were there, too, and they signed my copy of the 8 x 10, above. The two won lifetime passes to the park and would both be around 70 today.
Also on hand for the 1990 35th anniversary celebration was Ronald Reagan, just a year and a half removed from the White House. Reagan, Art Linkletter and Bob Cummings hosted ABC's rather chaotic Day One special of the opening of Disneyland and all three were reunited for the 35th.
Cummings, for years the ageless one, was in failing health at the time of the reunion and died later that same year at 80. Linkletter, who lived another 20 years to the age of 97, seemed little changed from his People Are Funny days in the '50s and '60s.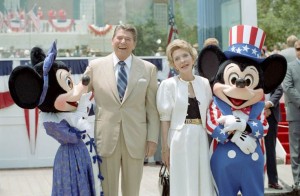 The place was crawling with secret servicemen. I remember seeing Mickey and Minnie in red, white and blue on a stage in front of the town square railway station. Ronald and Nancy Reagan were there, too, standing with then Disney bosses Michael Eisner and Frank Wells and Walt's look-a-like nephew Roy E. Disney. Suddenly, cannons barked out a 21-gun salute, an honour that seemed to take the ex-president and everyone else on the podium by surprise.
As I recall, there were already whispers about Reagan being touched by dementia at the time. However, the old actor alertly ad-libbed, "They missed me," into an open mike, drawing the biggest laugh of the day.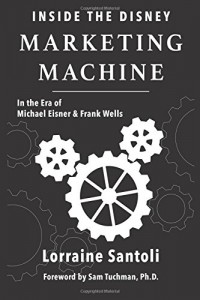 My pal Lorraine, who went on to become a top Disney executive, has written a book detailing the planning and attention that went into pulling off such a major PR stunt. Inside the Disney Marketing Machine in the Era of Michael Eisner and Frank Wells is available now in Kindle and paperback from Theme Park Press. Disney was no Mickey Mouse operation in those days, hosting reporters from all over the world by the plane loads at lavish events on both coasts. It was, as they used to say, quite the E-ticket, and if you're in the world of marketing and promotion, consider this book a "must have."
In the meantime, mouse ears off to the "Happiest Place on Earth."