It's been years since the Eye Network blinked. Well, pass the Visine.
Stand Pat CBS took a hit last season, losing its A18-49 ratings crown to suddenly resurgent (thanks mainly to Sunday Night Football, The Voice and The Blacklist) NBC.
Wednesday in New York at Carnegie Hall, CBS CEO Leslie Moonves and programming head Nina Tassler unveiled a fairly aggressive shake up of their schedule.
They're only adding five new shows–for now. It is the scheduling moves of its older hits that will give Canadian rights holders fits.
Among the big moves: CBS will fight fire with fire with a deal with the NFL bringing football to Thursday nights for eight weeks this fall. This means, however, its No. 1 hit comedy The Big Bang Theory moves to Mondays for eight weeks at the start of next season.
This actually works out for CTV–for eight weeks. The Canadian broadcaster is faced with rejigging its schedule if it wants to simulcast ABC's Grey's Anatomy, bumped ahead an hour to Thursdays at 8 next season. After football ends on CBS, CTV will be tasked with moving one of its two biggest hits to CTV Two or out of simulcast on CTV.
CTV programming president Phil King–now in L.A. as the Canadian broadcasters make their import deals for next season–has no qualms about taking full advantage of his unique two network options as he told me last week. King will bounce shows back and forth to work every timeslot advantage throughout the season. He looks at things from a sports perspective, benching shows if they are suddenly underperforming and going with the hot hand on any given week–as any viewer who tried to find Dancing with the Stars or America.n Idol can attest this season.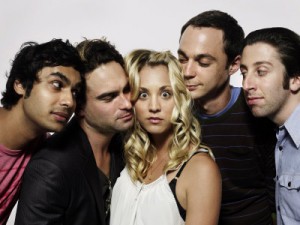 But bouncing around The Big Bang Theory, Grey's Anatomy and The Amazing Race? That's throwing Crosby, Ovechkin and Toews back and forth to the minors.
And, yes, The Amazing Race could be King's biggest headache. CBS is moving The Amazing Race to Fridays. TAR remains a monster hit Sundays at 8 on CTV but not so much on CBS and this throws up a tricky roadblock.  Does CTV move it to Fridays and get the simulcast, or leave it out of simulcast on Sundays? King said last week that he was not frightened by Rogers' hockey power play, but yanking that big Race tent pole heading into a season of NHL hockey on Rogers'  owned City stations could be a game changer.
The other Canadian nets have some sorting out to do. City will have to keep pace as CBS ping-pongs 2 Broke Girls around on Mondays. Global will have to buy the new NCIS: New Orleans with Scott Bakula. CBS is slotting it behind their Mark Harmon original.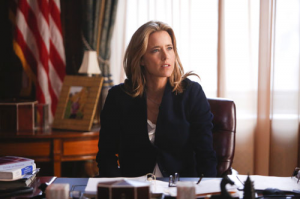 All three Canadian broadcasters will be looking to stock up on the five new shows CBS has just announced for fall. They are:
Scorpion, a Monday drama starring Robert Patrick as an eccentric genius who heads a crack cyber team of computer nerds. This "Big Bang" drama also stars Katherine McPhee (Smash).
NCIS: New Orleans will air Tuesdays after the original on CBS.
Stalker: another crime-filled women-in-jeopardy hour, with DylanMcDermott and Maggie Q as LAPD detectives hot after stalkers. Coming Wednesdays.
The McCarthys: Another family comedy, with Laurie Metcalf and Jack McGee at the head of this sports-mad clan. Thursdays.
Madam Secretary: CBS execs introduced it as what you'd get if 60 Minutes and The Good Wife had a baby–ikky, since nosw we all haveto scrub out the image of Morley Safer doing it with Julianna Margulies, but smart, since it will drop in between those two shows. Tea Leoni stars as the U.S. secretary of state.
In the wings is a remake of The Odd Couple with Matthew Perry still looking for that post-Friends hit. CSI: Cyber, starring Patricia Arquette, premieres spring 2015. Also mid-season (although there is no more mid-season, says Tassler) is Battle Creek. This tale of mis-matched Michigan cops (say that three times fast) hails from Vince Gilligan and the second best writer from London, Ont., David Shore (House). Josh Duhamel and Dean Winters star.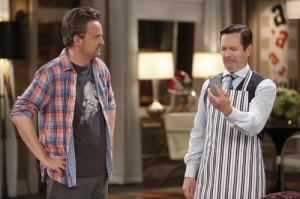 CBS passed on the spin off How I Met Your Dad, so they must have seen the How I Met Your Mother finale, too. CBS also announced that this will be the final season for Two and a Half Men, a show with more forks in it than a dessert at The Keg.