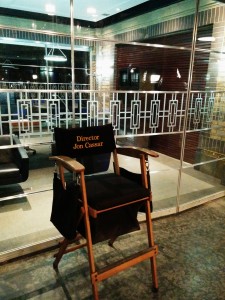 Dammit Chloe!! 24: Live Another Day wraps Monday night on Fox and Global. The series did decent numbers, cracking the US top 20 in last week's Neilsens.  24: Live Another Day has done even better in Canada, pulling 1,421,000 total viewers on Global the last week of June according to Numeris (formerly BBM Canada). That ranked it No. 7 in Canada for the week, behind Masterchef (No. 1 with 1 ,914,000 total viewers on CTV, Rookie Blue (No. 3 with 1,592,000) a FIFA World Cup soccer game on CBC and a couple of Big Brothers.
Fox will be at the TCA press tour next week and it's expected they'll announce another summer run for 24. Or–new co-top executives Dana Walden and Gary Newman may decide to de-commission Bauer and put their own stamp on content.
I was in London a few months ago interviewing Kiefer Sutherland and the other cast members, as well as showrunner Jon Cassar. Cassar spoke about running and gunning the series with a British crew and how quickly he was able to find a solid production rhythm. There seemed to be a feeling, too, that 12 episodes were better than 24, with all that was shed in the reduction were those dull episodes in the middle of the season.
I'm guessing Jack will be back, and probably in Paris or Monaco or Vienna or some other cool place where Kiefer can try and stay out of trouble for five or six months.