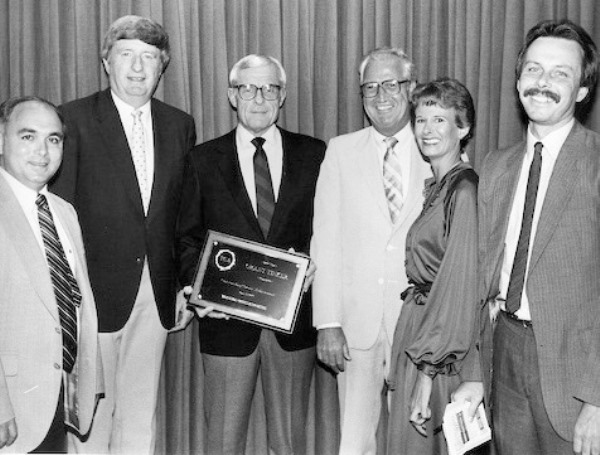 In 1985, TV critics held the first Television Critics Awards. Handing out engraved plaques — "hastily designed at Trophy World" recalled one of the first TCA presidents, Ed Bark — had been a contentious move for the group. Several scribes were wary of creating something that could grow into that ultimate horror — another televised awards show.
Only one of the winners showed up to accept his TCA Award that first year: Grant Tinker. The former NBC Chairman and MTM founder died Monday in Los Angeles. He was 90.
Tinker, by all reports was somewhat sheepish about accepting that first Heritage Award. The entire ceremony lasted 20 minutes. Still, he made a special trip to LA just to acknowledge the tribute.
That's not why he was a hero to those hard-to-impress TV scribes. They respected him because he raised the bar. He had a lot to do with making us all love our jobs.
What was not to love about Grant Tinker? With that silver hair, he looked like an All-American executive, like a network news anchor or a retired golf pro. He was in on the creation of several classic TV comedies and dramas as head of MTM, including Mary Tyler Moore, The Bob Newhart Show, WKRP in Cincinnati, Hill Street Blues, Lou Grant and St. Elsewhere. His marriage to Moore, which spanned The Dick Van Dyke Show and through the run of her own series, seemed like the ultimate TV power couple fairy tale.
The man was classy, defended quality and championed writers and creators. Surprisingly, this turned out to be a winning formula. NBC had been getting its ass kicked since the '50s by CBS and, later, ABC. Tinker's run as Chairman saw the Peacock network climb to No. 1 and stay there. It was the era where the phrase "Must See TV" emerged. Even Johnny Carson stopped joking about NBC's fortunes.
I moved to Los Angeles in 1985 and as a rookie reporter covered two press tours where Tinker was still the boss. I remember him in the background at the Century Plaza, the tour hotel of choice throughout the '80s. Modest and quick to credit his chief programmer, Brandon Tartikoff, Tinker did not seek the spot light. This, ironically, made him stand out.
I've interviewed a few showrunners who got their start at NBC and they speak of Tinker in hushed tones. One is Hugh Wilson, who managed to get an introduction to Tinker during the early MTM years and in a short time turned an intern position into becoming the creator of WKRP.
Wilson knows he could not have survived in broadcast television if Tinker had not been there to protect him. The novice showrunner was being constantly called into question by CBS.
"I was lucky I was at MTM," he says. "I don't know how he did it—he was a perfectly charming man is probably how he did it. He probably reminded them that four of their top 10 hits was from him. He would come back and say, 'Hugh, it's all right, you can do that."
Tinker stood up for quality as a network boss, too. Anybody else would have canceled Cheers and St. Elsewhere after low-rated first seasons. Tinker and Tartikoff showed something seldom seen in network programming offices — patience.
Tinker only stuck around as Chairman for five years, yet he left a lasting legacy at NBC. As author Ken Auletta ("Three Blind Mice") put it, "If there was a Mount Rushmore for TV executives, Grant Tinker would be on it."