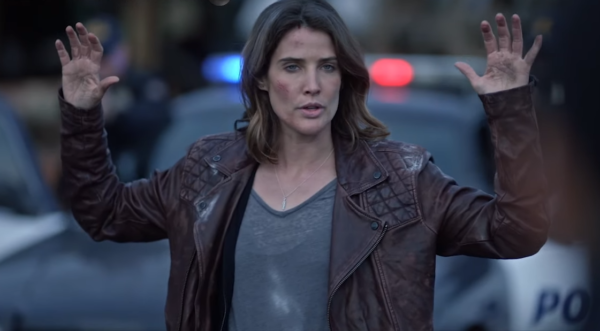 Vancouver native Cobie Smulders (How I Met Your Mother) leans into her Marvel action roles in Stumptown, premiering Wednesday, Sept. 25 on ABC and CTV.
The series is based on a series of graphic novels — a description found on more than one new network series this fall. Stumptown, by the way, refers to Portland, Oregon, where the series is set. Stumps caused by massive tree clearings when the city was settled is apparently the "root" cause for the nickname.
Smulders glams down as Dex, a damaged, burnt out U.S. Marine with service in Afghanistan who has a compulsion for sex and gambling. By the end of Wednesday's pilot episode she has stumbled into the private investigator business. Think of this series as How I Met Your Inner Marvel's Agents of S.H.I.E.L.D.
We learn she has the chops for this within the first five minutes, during an action-packed donnybrook that takes place in a moving car. Dex fights her way out of death defying situations more effectively than she fights off depression.
The bonus with this series is the cast, with Canadian screen veteran Tantoo Cardinal getting an opportunity to shine, US network TV style, as a no-nonsense police captain. Michael Early (The Good Wife) plays a police detective who winds up working with Dex and also finds himself among her long list of lovers. Camryn Manheim plays another cop; Jake Johnson (New Girl) was a late and welcome addition to the cast.
The pilot is a little too layered. Dex also is responsible for a brother who is mentally challenged (played by Cole Sibus). There's a lot going on at home and at work and the obstacles piled up in Dex's way do seem a little too "graphic novel" at times.
The series all comes down to Smulders, however, and she carries it. You will root for Dex even if you wonder about all her flaws and all her James Bond abilities. Then again, her survival skills are no more ridiculous than they are for James Bond.