PASADENA, Calif.–Never mind Donald Trump, Caitlyn Jenner or Jennifer Lopez. Enough with all The X-Files hype, or blather about The People vs. O.J. Simpson.
There's only one burning question this TCA winter press tour–what's happening with Amazon's plan to re-mount The Tick, a.k.a. the Big Blue Bug of Justice?
It was 15 freakin' years ago when Fox gave us the first of nine episodes of The Tick, a live action version of the animated series spun off from Ben Edlund's comic books. Barry Sonnenfeld directed the pilot, with the production designed by Bo Welch.
This was back when Fox development was far more creative and adventurous than Fox scheduling. Promising, original programs such as The Tick, Wonderfalls, Keen Eddie and Andy Richter Controls the Universe would be dreamed up and then get buried on dead nights in deader timeslots.
The Tick in particular got less love or promotion than a journalism school graduate. The cheap-to-produce reality series Joe Millionaire became an instant smash and before you could say, "Rupert Murdoch," clever little gems like The Tick were squashed like bugs.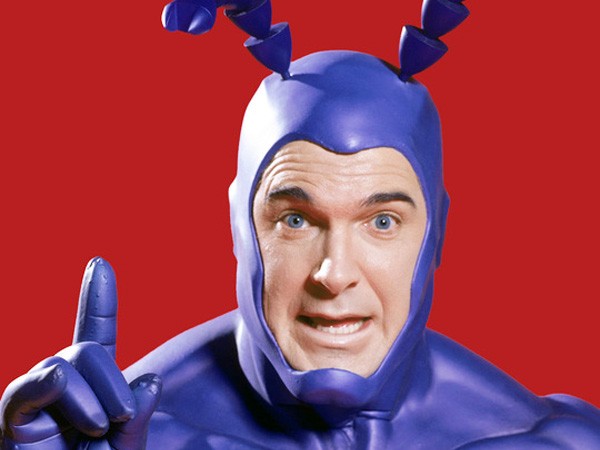 Today, however, new media platforms are pouncing on brands with any kind of built in recognition. Bringing back Arrested Development and Trailer Park Boys fetched plenty of attention to Netflix and pleased the kind of TV fans who might pay to see more of their favourite shows.
News that Amazon Prime had ordered a pilot for a rebooted Tick first surfaced in September of 2014. When Amazon was at the TCA winter press tour about a week ago, I asked the head of the network for an update. He drew a complete blank and was rescued by a publicist. Not a good sign.
To hear Patrick Warburton tell it, however, The Tick will live to fight crime another day. Warburton was at TCA Wednesday to help promote Crowded, a family sitcom where the kids never move out and the grandparents move back in. Stacy Keach plays granddad and Sean Hayes is among the producers. Warburton, who has four teenagers living at home right now, gets the premise.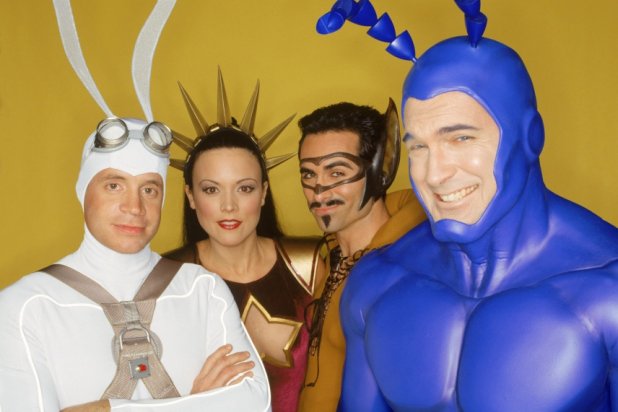 Still, it's easy to see his heart is still with The Tick. Warburton says he's seen the new scripts. "I've got Ben's latest draft, probably about his 10th," says Warburton. "It's really cool."
What about the other cast members? Will Bat-Manuel be back? Captain Liberty?
"I can't really get into that–I can't disclose too much," says Warburton. "The Tick is still the Tick. He's still every bit as beautiful and insane as he was."
Warburton, who spent six seasons on Rules of Engagement, says shooting The Tick, "was the most fun I ever had in my life. We did nine episodes, we got no support from Fox at the time. They'd just decided it was too expensive, they didn't care that ever critic loved that show, they were going to kill it for reality shows."
When Joe Millionaire broke big, Fox held The Tick for a year. "Then they threw us on Thursday nights against the second season of Survivor," says Warburton. "Fortunately, those nine episodes have a cult following."
Warburton says the new Tick is "brilliant and deep and dark and funny and I love the direction and the maturity."
So when will it air? He couldn't say, but when the pilot does air, it will be up to fans to vote for Amazon to take it to a full series order.