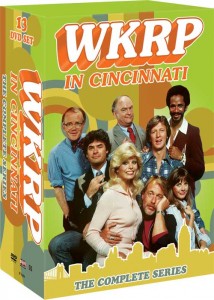 The Toronto Star has a big, breaking  story today–my feature on the DVD box set release of WKRP in Cincinnati.You can read that story here, which explains some of the details behind the many music rights clearances that for years delayed the arrival of this box set. It's in stores as of Oct. 28 and can also be orderesd here from Shout! Factory direct.
I was in university during the original run of the series (1978 – '82) and remembered it with great fondness. I was a bit apprehensive about revisiting the show but have discovered it is better than I remembered. There's a warmth I did not expect. The casting of the eight regulars is so strong. Each one starts as a cartoon character–Venus Flytrap is about as obvious a handle as Pepe Le Pew–so it sneaks up on you as you delve deeper into the series how flesh and blood everybody is, and how much heart there can be found in many episodes.
The folks at Shout! set me up on the phone with Hugh Wilson, who created WKRP. Had a wonderful time speaking with the man for nearly an hour. We talked about the casting, which Wilson chalked up to "serendipity."
Gary Sandy, as shaggy-haired radio station manager Andy Travis was the only actor Wilson didn't hand select–CBS wanted the former soap player  for what they saw as the lead. Wilson's plan all along, however, was to create an ensemble and he made sure everybody got in on the jokes. Sandy works perhaps because he might not have been the producer's first choice. He seems like who his character is, the fish out of water brought in to play straight opposite a gang of lovable misfits.
Some episodes just feature one actor, as in where station sales manager Herb Tarlek (Frank Bonner) and his family become ruined reality stars on a Real People-like clone, or the time Flytrap (Tim Ried) gives the station's cleaning lady's son a surprisingly effective teaching lesson.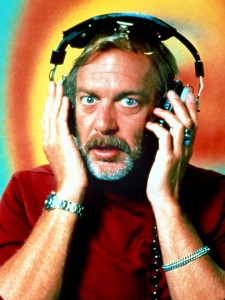 The Star piece details how a few cast members were cast but here's some info on the others: Gordon Jump, who played indecisive station manager Arthur Carlson, was cast after guesting on Mary Tyler Moore. Credit top MTM director Jay Sandrich–who helmed the WKRP pilot—for recommending Jump. When Frank Bonner came in to read for tacky sales manager Herb Tarkek—and moved a couch in front of Jump to block his path—"that became a no-brainer," says Wilson.
The producer was already a fan of Howard Hesseman–WKRP's trippy Dr. Johnny Fever—through his work with the California improve troupe The Committee. Wilson had to convince Tim Reid that Venus Flytrap would be more than the token black DJ introduced in the pilot. "Fortunately I had a second show written and that worked out," says Wilson. Both now live in Virginia and remain good friends.
More on Wilson, including comedy lessons Canadian showrunners should heed, in the next post.