"God, can we get away from The Beatles for a moment?"
Sir George Martin had had enough. The 82-year-old music icon had been fielding questions about John, Paul, George and Ringo for half an hour.
This was in 2008, at a Television Critics Association PBS press conference. The public broadcaster had brought Martin before the press to promote an ambitious, eight-hour music anthology series, a virtual history of recorded music. It was to have been produced by Toronto's Wildheart Entertainment. Kevin Spacey was booked to narrate. It was never made.
Well, bless their wild hearts anyway. It was the only time I got to see the man who sold a billion records. The famous "Fifth Beatle" passed away Tuesday at 90.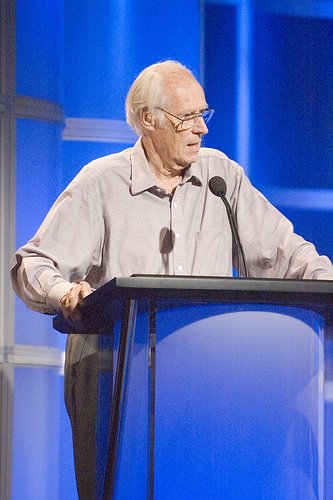 Martin was elegant and impressive on that day, although more casually dressed than in all those black and white photos from the '60s with his crisp white shirts and skinny black ties. That headmaster look provoked a famous quip from George. Asked by Martin, who had just delivered his critique of the band, if there was anything the lads didn't like, Harrison quipped, "Well, for starters, I don't like your tie."
He was a tad testy at the press conference, no doubt due to the fact he had been tricked into selling something that was little more than an elevator pitch at the time. He was hard of hearing, too, fielding questions from reporters through an assistant who sat next to him onstage and typed them up on a laptop. He grew peevish as more and more of us wanted to get back to The Beatles.
"Working with The Beatles obviously was a large part of my life, and certainly they are featured in this PBS series, but they're not the dominant theme," he said. After the group officially disbanded in 1970, Martin produced No. 1 hits for America as well as for Paul McCartney and Wings.
The silver-haired producer said he admired PBS. Otherwise, he told critics, "I don't like American television much, sorry to say."
He hated American Idol. "I know it's enormously popular," he said, "but it's not my cup of tea. I would never dream of being on there. In spite of the money that's being made … I'd much rather be poor."
As for those Beatle questions, reporters just couldn't let it be. Martin said the John Lennon Revolver track "Tomorrow Never Knows" was the weirdest song he ever produced, getting into some detail about Ringo Starr's "iconic drum track" and various experimental tape loops. "I don't want to go on too long, it will bore the pants off you," he said.
One of Lennon sweetest songs– "In My Life" – is his favourite Beatles single.
"I loved John's lyric. I loved the simplicity of the song.
"It wasn't exactly 'I Am The Walrus,' was it?"
He also has a fondness for it because – while the Fab Four were off having tea – he composed and performed the sprightly piano solo in the middle of the recording, sped up to sound like a harpsichord.
That song grew more personal for him as "friends and lovers" he had known passed away.
"Look at the words. They're great," he said.
One of the last projects he worked on was Love, the Cirque du Soleil musical he produced with his son Giles using remixed Beatles classics. It has been a steady Vegas draw for almost a decade.
"That was a massive task," Martin said. "The brief was, you can have anything you like from the archives of EMI to make up a soundtrack lasting an hour and a half, seamless soundtrack, but it must be new rather than old. Not a question of compilation of tracks, that's too easy. So with my son, we worked — actually it took three years to do. We evolved a soundtrack which was different from anything that anybody had ever heard and in surround sound, you get immersed in the music. A great project. Thankfully, it did actually come up extremely well."
Ever competitive, Martin says that if Love had failed, "I would have kicked myself, and I would have kicked my son, as well."
Martin need not have worried. In the end, the Love he gave was equal to the Love he saved.
Among the tweets posted marking Martin's death is this gem from David Simon, executive producer of The Wire:
"RIP George Martin. If the rest of us could all have such a shepherd for our works, the world might just make sense."