This week, CHML's Scott Thompson wanted to know about the time I attended a press conference with Sir George Martin. The Beatles' celebrated record producer passed away earlier this week, triggering memories of a somewhat prickly 2008 PBS press tour session. The man had to know "Beatles producer" would be on his tombstone, but he was all Fabbed out on the day in question.
We also talk more about "Skinny Basic" the cable package that is more closeted than Liberace.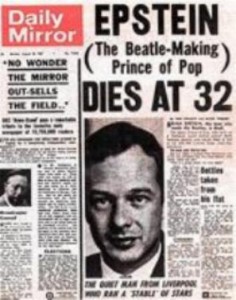 Speaking of segues, we touch on the news that a miniseries is being made based on the graphic novel The Fifth Beatle: The Story of Brian Epstein. Scott wonders if even boomers have had enough of the Fab Four; I think Epstein's story–with its shocker ending–would make a scintillating series.
I mention the new Patrick Warburton sitcom Crowded that starts Tuesday on NBC and quickly move on to talk of reviving Warburton's superhero gem The Tick. Evil men, the big, blue bug of justice is comin' atcha.
I end with a heads-up on Sunday's closing gala for The Canadian Screen Awards (8 p.m., CBC). Personally, I've always preferred these screens.
You can listen in here.