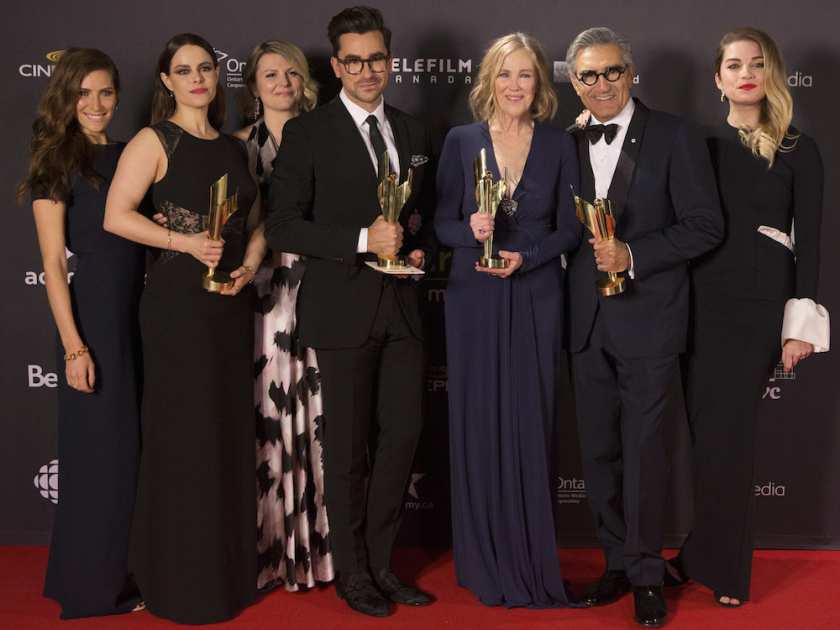 They should always have been called The Candys, dammit. Redesign the trophy, lose the ice scraper look, give us a bust of the guy with the snake on his face. Long live The Candys.
Sunday night in Toronto, the 4th annual Canadian Screen Awards was a rather straight ahead affair. The Sony Centre was well lit and in focus. There were no big song-and-dance production numbers, such as the ambitious Cirque du Soleil high wire act host Martin Short risked a few years ago.
Instead, Norm Macdonald kept his feet on the ground and his hands in his pockets, giving viewers a taste of his droll stand up set. Macdonald has become a mid-life road warrior, performing stand up 300 times a year.
He warned us we would hear the word "Schitts" at least 100 times. He goofed on being asked to host, suggesting he was too embarrassed to tell Oscar host Chris Rock what he was doing in Canada. He even used language usually reserved for comedy clubs, dropping an F-bomb as he mocked Cape Breton as a getaway spot for Trump refugees. Nobody even blinked, not even nine-year-old Jacob Tremblay.
Aside from that the jokes were very family friendly. He suggested, for example, that Tremblay and Christopher Plummer had one thing in common–they were both up past their bedtimes. He gave us full access to his inner mind, admitting it when he slipped into Bob Hope or Don Rickles-like moments. Some jokes were just that old, such as the time he asked what curling stones were made of, and then said he took that for granite.
This made him, of course, even more perfect and relatable to me.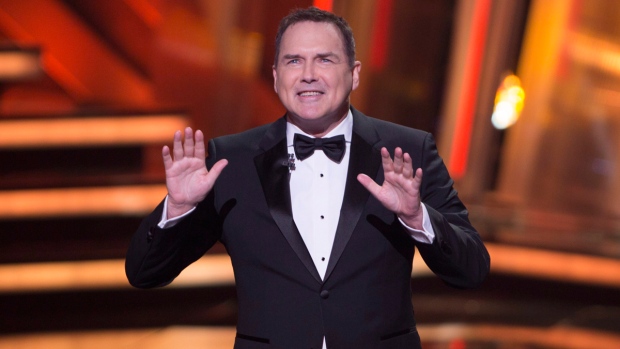 His greatest service to the Canadian Screen Awards, however, was naming the damn trophies. People have called them the "Screenies," which is both lame and cringe-worthy. Norm decided they will be called the Candys, after a guy he correctly noted everybody loves, the late, great John Candy.
That Tremblay kid–who seemed to be trying to out-cute those new zoo pandas at times–took the hint with gusto on presenting the first award of the night, and few failed to keep it going after that. It helped, of course, that much of the evening was a salute to Candy's former SCTV mates, Eugene Levy, Catherine O'Hara and Martin Short.
Both O'Hara and Levy made humble, gracious speeches accepting their acting honours. Levy's set up to Short's lifetime achievement award was a clinic on doing deadpan. The clips went on forever, stooping into "Clifford" (shudder), but Short was smart and entertaining as ever in response, paying homage as he does so movingly in his autobiography to his late wife Nancy.
The strangest part of the night was an up with women moment where a Carole King song was sung from the stage. It didn't seem to relate to anything and pushed the show eight minutes into overtime. They could have instead, for example, actually presented the award for best reality show to John Brunton for the most-watched series in the nation–The Amazing Race Canada–instead of dismissively bringing champagne to Brunton in the audience. He should have said no thank you.
There were awards given out to Canadian films, too, which provided plenty of time to go to the fridge or the bathroom, a service not found on most other award shows. The actual ad breaks seemed unusually short and were mainly CBC promos, almost as if real advertisers took a pass on the traditionally low-rated affair.
Some acceptance speeches drifted on into "Johnny and Debbie, daddy's won so go to bed" territory, making me feel something I never thought I would–a longing for when the orchestra plays somebody off. It did happen a couple of times or we'd all still be watching.
Little things to watch for next year: If you're going to have the band on stage, ask the trombone player to pretend to at least be interested in the opening monologue. That bored look is contagious. Also next time don't borrow the podium from the Sheraton meeting supply storeroom.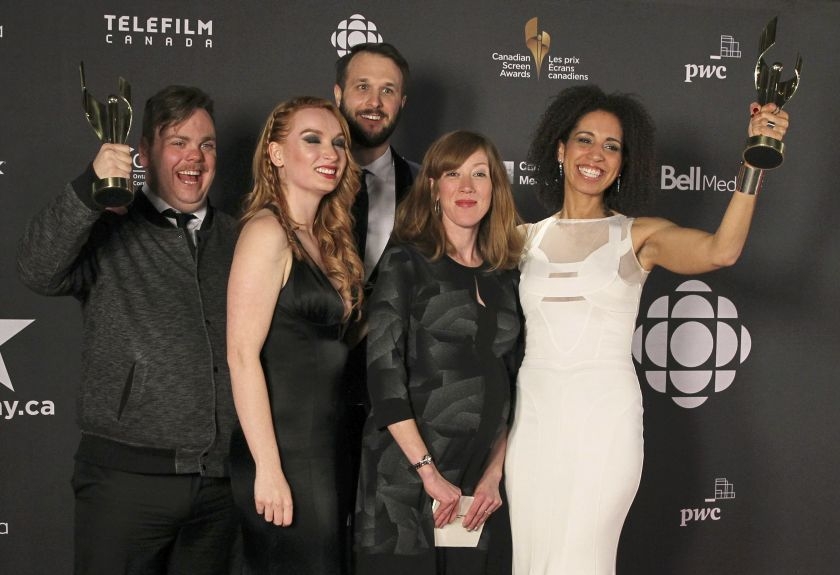 One welcome surprise was seeing the talented sketch ensemble for Sunnyside win in the comedy cast category. Now if only they knew if they were coming back to Winnipeg to do a second season. What's the deal, Rogers? And what about "Man Hailing Cab," shouldn't he win a Candy too?
Also great to see Murdoch Mysteries' star Yannick Bisson finally get a statue to place on his shelf. Bisson's a big reason that series, in its ninth season, draws 1.5 million and higher a week and that it's coming back for a 10th. He was thrilled to win, even thanking guest star William Shatner, who must have brought him luck this season.