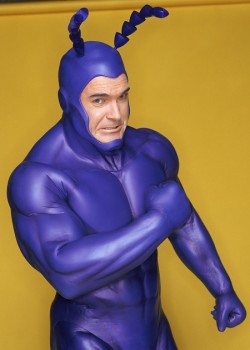 Patrick Warburton has plenty of reason to feel Ticked off. The actor has waited patiently for 15 years to see if anyone would finally do a re-boot of his favourite character–the big blue bug of justice, aka The Tick. Warburton squeezed into the outrageous muscle suit for nine amazing episodes that Fox all but hid from viewers at the turn of the century.  I spoke with him in January at the TCA press tour in Pasadena, Calif., about rumours of a Tick revival.
"We're doing it," he said, seemingly relieved not to talk anymore about his horrible new sitcom Crowded (premiering Tuesday night on NBC before moving to Sundays where it will be quickly cancelled).
Amazon Prime announced last Friday–after two years of thinking about it–that they were going forward with a pilot order on a reboot of the series. The hold up, according to Warburton, was creator Ben Edlund's script, which Warburton said went through several revisions. "They've been beating him up," Warburton said in January of all the script changes. Warburton had just read the latest installment and loved it. "I think it's brilliant."
He says it will be a darker series and hinted some characters and actors won't be back from the Fox original live-action version.
Warburton expected to be back, and even had NBC write a "carve out" clause into his Crowded contract so he could return to the Tick. Yet early reports suggest Warburton may also be replaced.
This is way worse than Loblaws ditching French's ketchup, chums. Wicked men of Amazon, you face some ticked off Tick fans.
There was some good news for Warburton Monday:  he has been cast in Netflix's upcoming adaptation of A Series of Unfortunate Events. He'll play narrator Lemony Snicket.
That's good, because Crowded is horrible. Executive producer Sean Hayes (Will & Grace) got all shirty at the Crowded press tour session (which wasn't all that crowded) when a scribe dared suggest the laugh track sounded a tad sweetened. "There's no laugh track," said Hayes. "It's actual live people enjoying themselves, and I just want to make sure that's clear."
Less clear: were these live people relatives? And what show were they watching?
Fellow EP Suzanne Martin went so far as to suggest some laughs had to be taken out in the editing. If they were, they were taken out on a stretcher. Crowded looks and feels like an '80s sitcom, and we don't mean Cheers; more like The Tortellis.
For more on Warburton and The Tick, read my story in Tuesday's Toronto Star Entertainment section.