What are some of the highest rated programs this summer?
Well, to be honest, there aren't a lot of them. Only eight TV shows across Canada drew more than a million viewers in total viewership the week of July 3 — 9 according to the latest Numeris Canada Top 30. The Amazing Race Canada came back strong to start Season 5 with 1,888,000 total viewers. Second, and well back, was American Ninja Warriors, also on CTV, at 1,274,000.
Take out news shows, and there are a lot of mindless summer distractions in the Top 30, including Big Brother on Global (ranking No. 4 – 6), Hollywood Game Night on CTV (#14) and The $100,000 Pyramid (#19).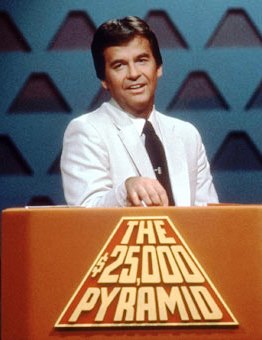 Pyramid, hosted by Michael Strahan, is one of a handful of network throwbacks to the '70s this summer. The original version, with Dick Clark as host, premiered back in the dark days of the Watergate hearings — back when America was great again, or when America previously needed to paper over things that perhaps weren't really that great.
In Toronto/Hamilton ratings, Celebrity Family Feud (No. 14) and To Tell the Truth both cracked the Top 30 as City imports. Making less of a splash in Canada is ABC's reboot of another blast from the past, Battle of the Network Stars. In the US, on Thursday nights, The Gong Show — with barely recognizable Mike Myers as Bawdy Brit host Tommy Maitland — is generally winning its timeslot.
While there does seem to be a lot of throwbacks to the '70s, there's nothing unusual about mindless fluff dominating summer schedules, as Marc Berman of The Programming Insider explains in this feature I wrote for The Toronto Star. Pick up a paper Thursday or follow this link to the story here.