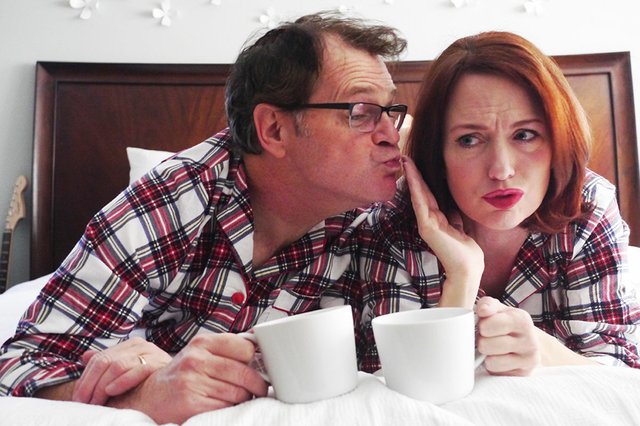 The live sketch comedy "Middle Raged" played to a packed audience Saturday night at the Westdale Theatre in Hamilton, Ont. Ex-22 Minutes player Geri Hall and TV writer/producer Gary Pearson (MADtv, Sunnyside),wrote and performed the entire show.
The talented duo, friends and neighbours for years in Oakville, basically threw their own lives and families into the comedy blender for this giddy goof on suburban life. There are shots at IKEA (the brain child of a Nazi!), God (getting design tips on humans from two lab nerds) and middle age romance. This couple turns to TV to act out their date night fantasies, drawing on Star Trek and Outlander for kinky inspiration. Doesn't everyone?
Hall and Pearson also step into the audience and quiz couples to spark a few totally improvised segments. The inspiration and the laughs are spontaneous. Having traveled the show to the Edmonton Fringe Theatre Festival to rave reviews, as well as other venues in Toronto and Oakville, these two have their timing down pat. A national tour is already in the planning stages for 2020.
Pearson, a shameless Star Trek spoofster dating back to his days with the Toronto-based comedy troupe The Chumps, won't mind this comparison: they are the Vulcan Mind Meld of comedy — their thoughts are as one.
There is a throwaway line in the show where they even mock themselves. Imagine, one of them asks, paying 35 bucks a ticket to see a couple of Canadian actors. Sheesh.
That was all it cost — roughly the service charge for lining up to buy a ticket to next spring's Mirvish production of "Hamilton." Why, when you can go to the city of Hamilton and see "Middle Raged" for the same amount!
The "35 bucks" jest scratches the sensitive underbelly of the Canadian entertainment industry. At a time when Disney, Apple and Warners are poised to flood across our borders and steal every eyeball with multi-million dollar blockbusters, how can local talent compete and survive?
By springing from our communities and being region specific. Universality comes from creating characters and situations that are relatable. The couple in "Middle Raged" are coping with stressful times, aging parents and, as they put it, "the madness of childrearing." People everywhere can relate to that. But they're also poking fun at Oakville and Hamilton and the world on your street. It's a formula that has worked from Air Farce to Fleabag.
Hart and Pearson bring it all to life in ways that will have you laughing and nodding in total agreement. It's a show for anyone who's ever been trapped in an IKEA, desperately searching for an exit. Go see them and be part of the show when they come to your neighbourhood. Spend the $35 bucks. I'm also going to hope to see them extend this stage idea into a TV series. Crave can't coast on Letterkenny forever. Tell our suburban stories, Canada — it's where most of us live.