Did you know that there were horrible remakes made of "It's a Wonderful Life" and "Christmas in Conneticuit"? And that one was made in the '70s and one in the '90s?
Yes, nothing is sacred at Christmastime, even evergreen originals. One just has to look at all the horrifying re-boots of Dr. Seuss' How the Grinch Stole Christmas to start feeling like Scrooge. Then there's all the remakes of Scrooge!
I don't even like Bill Murray's 1988 "Scrooged," although a lot of people do. The selfish TV executive angle is interesting to a point, and, sure, Buster Poindexter, but is a pretty angry movie. More festive is "The Preacher's Wife," the 1996 remake of "The Bishop's Wife" starring Denzel Washington and Whitney Houston and directed by Penny Marshall. It has its heart in the right place.
Neither of those remakes, however, are bad enough to really enjoy like these next two. The sort-of good news is that, if you have the right cable package and can stream shows on-demand, you can watch these cheesy movie remakes this Christmas. Here's the what/where/when:
"Christmas in Connecticut" (1992)
BASED ON: "Christmas in Connecticut" (1945)
WHERE TO SEE IT NOW: AMC
There are several big names in this remake, albeit most a little past their prime. Dyan Cannon, the ex-Mrs. Cary Grant who make "Bob & Carol & Ted & Alice" in 1969, bravely steps into the Barbara Stanwcyk role as a Martha Stewart-like TV homemaker named Elizabeth Blane. The problem: she can't cook and is a total fraud. Originally made for the US cable network TNT, the TV-movie co-stars Tony Curtis at the height of his white-wigged glory as Cannon's character's manager. He sees a heroic forest ranger on the TV news (played by shirtless Kris Kristofferson) and arranges for Blane to cook him a Christmas dinner on live television. Hilarity and romance ensues. Richard Roundtree ("Shaft") stars as a bad motha… as somebody named Prescott.
Here's the kicker: the movie was directed by Arnold Schwarzenegger! You can tell, too, because this sugar-y flick nearly terminates Christmas.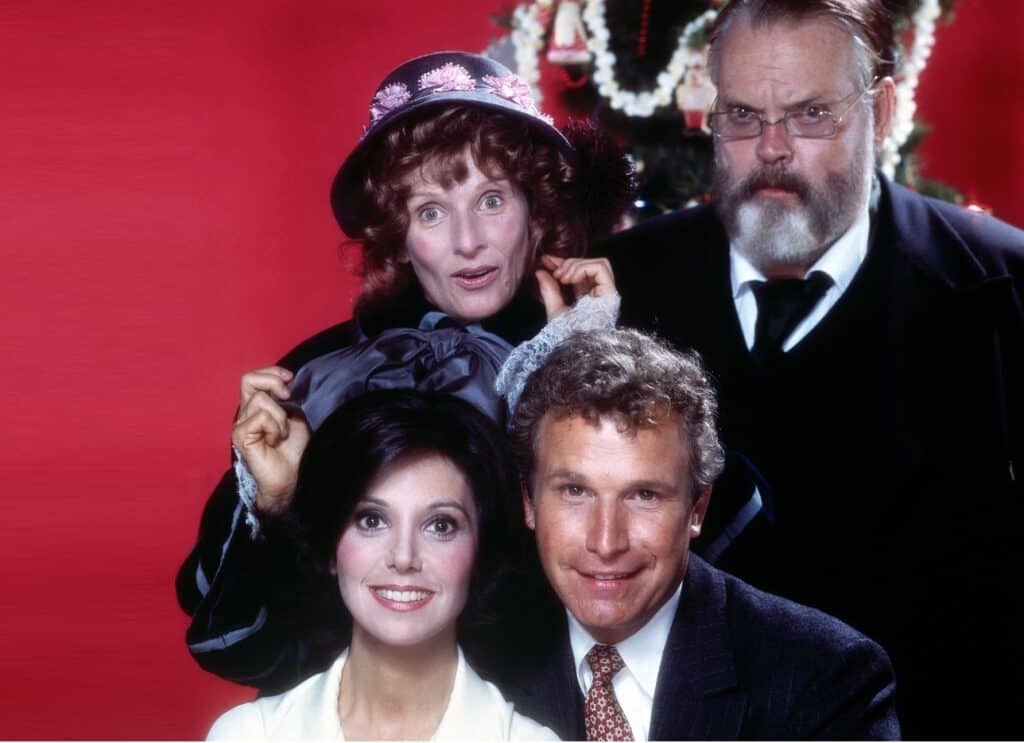 "It Happened One Christmas" (1977)
BASED ON: "It's a Wonderful Life" (1946)
WHERE TO SEE IT NOW: Amazon Prime Video
Every time a bell rings, this remake gets deleted from somebody's PVR. Marlo Thomas stars as a woman who wishes she'd never been born in this lackluster remake of the Frank Capra classic. The fault isn't really with Thomas, who brings her usual pep to her role as Mary Bailey Hatch. It's just that it's a remake of a beloved classic made in the '70s. Wayne Rogers from M*A*S*H plays her husband, George Bailey; Orson Welles plays mean ol' Mr. Potter. He huffs threough the movie as if somebody served him wine before its time. Saving the film somewhat is Cloris Leachman, Emmy nominated as angel Clara (rather than Clarence from the original). Leachman plays her with an English accent straight out of "Mary Poppins."
Aside from the gender switches, this ABC Sunday Night Movie is pretty much a paint-by-numbers remake, minus all the original charm. Mary and George once again dance on that gym floor that slides back to reveal a swimming pool (it looks like it was shot in the same real life Califonia school gym), but all the humour from the first movie disappears with the floor. When George and Mary argue at her mom's house, the remake ends without the great scene of the two of them cheek-to-cheek as they take that fateful call from Sam "Hee-Haw" Wainright.
Look for former L.A. Law regular Richard Dysart as George's dad Peter Bailey, Doris Roberts as Ma Bailey and, in one of his first roles, Christopher Guest as George's heroic little brother, Harry Bailey.
After the movie, Thomas didn't act again for seven years.