Tuesday, January 12, 2005 was not a red letter day in the history of the Television Critics Association.
On that day, a press panel was held for the Showtime series Fat Actress. The title character was played by Kirstie Alley, who died Monday following a short battle with cancer. She was 71.
Alley's big show business break came 40 years ago in 1982 with the release of "Star Trek II: The Wrath of Khan." Most fans, however, remember her as Rebecca Howe, the bar manager opposite Ted Danson from the hit NBC sitcom Cheers. She joined that series in 1987 until its finale episode in 1993, stepping in after the much-publicized departure of Shelley Long. Those were big pumps to fill, but Alley held her own and outlasted Long's stint on Cheers.
She later headlined her own series, Veronica's Closet (1997-2000), which was a "hammock hit" between Friends and Seinfeld on NBC's "Must See" Thursdays.
Alley had other triumphs along the way, including the 1989 feature "Look Who's Talking. Co-starring John Travolta, the film also featured Bruce Willis as the voice of a wisecracking baby. It was an enormous hit, spawning two sequels.
Along the way, Alley's face was regularly splashed across the front page of supermarket tabloids. Headlines about cocaine addiction, weight loss and gains connected to her Jenny Craig endorsements as well as her association with Scientology sold a lot of issues of the National Enquirer.
In more recent years, her on-again, off-again support of Donald Trump was also polarizing — making it ideal fodder on tabloids and Twitter.
Her friends in the showbiz community, however, always stood by her, as evidenced by the outpouring of grief at her passing. Co-stars such as Kelsey Grammer and Rhea Perlman from Cheers and Travolta shared their love and sorrow at the news.
Most remarkable was a message shared by Danson with the on-line trade journal Deadline.
"I was on a plane today and did something I rarely do. I watched an old episode of Cheers," he said. "Kirstie was truly brilliant in it. Her ability to play a woman on the verge of a nervous breakdown was both moving and hysterically funny. She made me laugh 30 years ago when she shot that scene, and she made me laugh today just as hard. As I got off the plane, I heard that Kirstie had died. I am so sad and so grateful for all the times she made me laugh. I send my love to her children."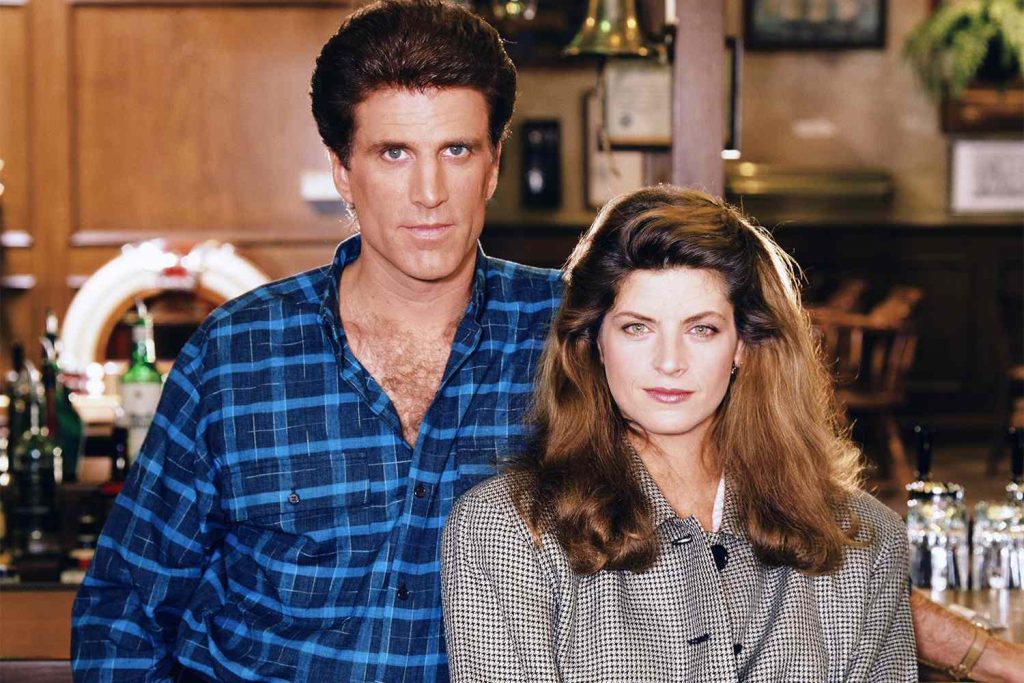 Alley never completely surrendered the spotlight, making appearances on such reality shows as Dancing with the Stars and, just this year, The Masked Singer. In recent years, she also headlined a couple of short-lived series, including, for TV Land, Kirstie (2013-14) and, before that for Showtime, Fat Actress — which brings us back to January 5, 2005.
The series was largely unscripted and blurred the lines between fact a fiction in a similar manner as Larry David's Curb Your Enthusiasm. Travolta and several actors from Cheers made cameos.
Given the title of the series and Alley's reputation for telling it like it is, critics pounced.
"When did you realize you had a real serious weight problem?" went one line of inquiry. "When did it — you got up one morning and looked in the mirror, how long ago was that?"
"When you just told me I did," Alley answered. "Am I fat?"
Now, as a group, TV critics should not be pointing their fat fingers at anybody on this subject. Most of us had just come from a fat lunch and were heading for a fat snack before our fat dinner.
And yet the fat shaming went on. It's not likely a network such as Showtime would call a series Fat Actress today, but even back then the goal was to cut through the clutter.
Alley did not blink. She told critics that, back when she was doing Cheers, "I was hauled in several times for being too fat. Now, if you'll look back on Cheers, I don't think I ever got over 135 pounds, and I'm 5-foot-8. On Veronica's Closet, it was sort of a weekly ritual. And when I look back on that, I go, 'I wasn't fat.'"
Later, she had to admit her weight had exceeded a barrier or two. She told critics that she weighted 203 pounds "when I was on Oprah, but then Thanksgiving hit and I gained four pounds.
Critics asked how much she had recently lost on Jenny Craig and how much she wanted to lose. She was asked if anyone had warned her that doing this series was "career suicide." She was asked if the mood swings on the show mirrored her mood swings in real life.
Through it all, Alley never lost her sense of humour.
"I think it's amplified," she said of her own drama, much the way things were amplified on Curb. "I think great comedy is great overly-dramatized tragedy."
She did spend three days in bed once, she confessed, because "I was fat, old and ugly and never going to work in a sitcom again, but you know if we were showing it in the show, it would be like four days."
Besides, she said, she was already "under siege 24/7" by the tabloid press. Her co-star on Fat Actress, Bryan Callen, said the cast was doing a publicity shot by a newsstand where there were taboids with headlines such as "Kirstie's Diet Tragedy." Across the street, said Callen, "there was just paparazzi everywhere, hiding in the trees. It was the craziest thing I've ever seen."
At one point, despite all the hurt and how the public fat shaming affected her family, she just went with it. "It has actually been very liberating to just decide, you know, that there's got to be humour in this."
And maybe a few dollars as well. She had just finished writing a book titled, "How to Lose Your Ass and Regain Your Life." That experience caused her to assess how much she had always sought approval for the way she looked. Back when she weighed 115 pounds, she said, "I was probably the most physically beautiful of my life, and I had a horrible life. At other times she couldn't accept getting "dumped by somebody" despite being, as she called it, "Halle Berry beautiful."
"So I look back and I think, 'Wow, you know, it really didn't have anything to do with my body."
A few reporters asked if she worried she might wreck the show by losing weight, which may constitute some kind of Olympic level in terms of a backhanded compliment.
Said Alley: "The show is really more about … how easy it is to prey upon women and their insecurities. So it's actually more than about being fat." Should she successfully diet and become skinny, she continued, "I'm sure I'll have some big disease on the cover of The Star, and there's a season. And it doesn't really matter, fat or skinny, it doesn't matter."