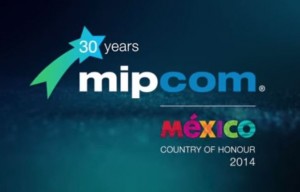 CANNES, France—Still not convinced that television is becoming a one big world business?
Turn on a TV in France and you see the same thing you see if you turn a set on any time of the night or day in Canada—Murdoch Mysteries. As I type, an episode from Season Seven of the shot-in-Toronto detective drama—the one where there's a sighting of the Loch Ness Monster in Lake Ontario– is playing in my hotel room. Mon Dieu! A second episode follows—the cross over hour with Allan Hawco–and then a third. TV in France IS just like TV in Canada!
It is a bit whacked to listen to French Canadian Yannick Bisson dubbed in French, but whoever performs the task et magnifique.
I'm here covering the annual world television marketplace known as MIPCOM. This is the 30th year for this cocktails and convention by the sea but my first visit.
MIPCOM is where people from around the world who make, buy, sell, program and even cancel TV shows gather to see what's next. You can smell the hype from the airport, where women were handing out show cards the minute my plane touched down. Gene Simmons is here, so you know there is money on the floor and suckers around every corner. There are 12-1300 delegates, all paying big bucks to cram into the Palais des Festivals.
Some pals from Shaftesbury—the studio responsible for Murdoch—helped bring me up to speed Saturday night over Chinese food. Shaftesbury CEO and chairman Christina Jennings did say Murdoch is a top draw in France, pulling 3.5 million viewers. Bisson in at Cannes for events later this week and is also making a promotional stop in Paris.
I also learned over the weekend that a Canadian media company has picked up the promising new CW comedy Jane the Virgin, but I swore I wouldn't blab who. Just glad somebody did.
Saturday and Sunday were set aside for MIP Junior, where children's entertainment from all over the world is showcased. There is a new generation of Peanuts planned as Charles Schultz's comic strip hits 65 next year. The ol' blockhead is now a pensioner trying to kick painkillers instead of Lucy's football.  No, that's not true; the Peanuts gang are all still kids.  A $100M Peanuts movie is coming out, and Snoopy's 3D fur is so realistic you just wasn't to pet him, attendees were told. Good grief.
A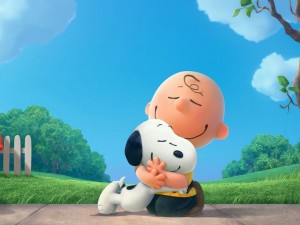 screening of the new crop of innovative children's and youth content from Canada was sponsored Saturday by The Canadian Media Fund and Telefilm Canada. Canada has always been a big children's entertainment exporter.
In other corners of the convention, there was more proof that there are no new ideas: Thunderbirds are go!There are plans from ITV Studios and a group in New Zealand to mount a revival of Gerry Anderson's "supermarionation" series from the '60s, Thunderbirds. The new series will be a mix of modern CGI animation and graphics and the old school, 3D models and backgrounds used in the original. Lord of the Rings honcho Peter Jackson is involved, so look for the episodes to be really long. There was a packed screening for the pilot with the series available around the world in early 2015.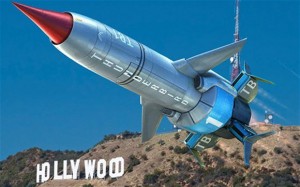 Monday is when things really get serious with the first full day of the regular MIPCOM marketplace. There will be a keynote speech by one of the Netflix major domos, but journalists I spoke with from the UK seem more glued to a service still unavailable in Canada: Amazon Prime.
First impressions of Cannes: you can tell the locals from the conventioneers because the locals are all attached to un petite chien. Among the old world charm on the streets of Cannes, close by the Palais, are shiny new digital condom machines. The wine of choice, I was told, is a light blush rose and good luck finding it in Toronto. There is a Steak 'n Shake in Cannes and if they open an In 'n Out Burger I'm moving here.Things, however, do operate at a slower pace in this seaside town. As a colleague said to me outside the hotel, "you can become an old man waiting for the shuttle to arrive."