The Last Man on Earth is one of my favourite new comedies. Fox has it Sunday nights at 9:30 p.m. ET. It is off to a promising start on Fox but so far no Canadian network has picked it up.
It stars Will Forte as the bearded mook who somehow, two years after a world-wide virus outbreak, seems to be the last surviving man on the planet.
The first week we learned there was a woman on earth, too, played by Kristen Schall (Portlandia). So we had this lonely slob who was ready to kill himself, he was so bored and felt so lonely and pointless. Then he finds out he's not alone, but after spending an hour or so with this woman, he wants the hell away from her. Classic.
No, really, classic. This is pure Laurel and Hardy, or even another silent comedy star and somebody Forte got compared to at the January TCA press conference for "The Last Man on Earth," Buster Keaton.
SPOILER ALERT: If you missed this Sunday's third episode, another "last"person on Earth was revealed. Quick, jump here now if you don't want to know.
Hey, I said no peeking! Yes, it was January Jones from Mad Men. Jones was at that January press tour (of course she was) but couldn't say then what role she might play on Last Man. Turns out she is playing the beautiful woman Forte's character Chris Miller coulda had except now he's gone and married Schall's character.D'oh!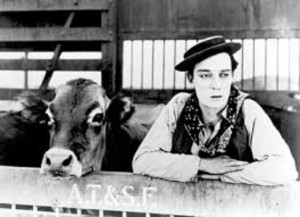 I like Last Man because it dares to play to the obvious: men are idiots. Women drive men crazy. It is the same nerve struck by Laurel and Hardy and Charlie Chaplin and Buster Keaton and Harold Lloyd in comedies that date back 100 years.
Now, Huffington Post TV critic Mo Ryan has taken a dim view of Last Man. Not enough heart and "an enormous bummer on the gender front," she writes. Adds Ryan:
If you want to spend some time watching a man roll his eyes and sigh and complain about a woman who's making demands on him, "Last Man on Earth" has got you covered. The last place I expected to find a narrow, nagging cable wife was on a broadcast network comedy made by the "Lego Movie" guys, but life is full of surprises, I guess.
I would argue that there's no one like Schall's character on broadcast or cable. She's obsessive and about as nuts as you might expect anyone to be who has survived two years past a mass wipeout of humanity. So is Forte's Miller.
There's something extraordinarily touching about both these characters, too. She gluing a bushy beard on her wedding cake man doll. He wanting to have all his new "ball buddies" at his bachelor party. Keaton and Chaplin got similar laughs playing off of cows and dinner rolls. Pathos and props go back before sound.
It could be that the appeal of Last Man breaks along gender lines. This is also true of Laurel and Hardy or, especially, The Three Stooges. I think that's because women already see too much evidence that men are idiots and don't need to watch it as entertainment.
In the words of the great philosopher Homer Simpson, however, there's a reason why these things strike a chord: "It's funny 'cause it's true."
The writer's aren't all men on Last Man. Forte really wanted Emily Spivey (from the Will Arnett sitcom Up All Night) on his staff and went out and got her. That's how he also wound up with the Canadian on his writing team, Tim McAuliffe, who worked with Spivey. McAuliffe wrote the upcoming sixth and ninth episodes of Last Man. His credits in Canada include This Hour Has 22 Minutes and I spotted a shout out to him from Mark Critch on Twitter. I messaged McAuliffe, arranged an interview and wrote about him being the first Canadian on Last Man for The Canadian Press. You can read that full story here.
This is what men do, we hunt. It's funny 'cause it's true.