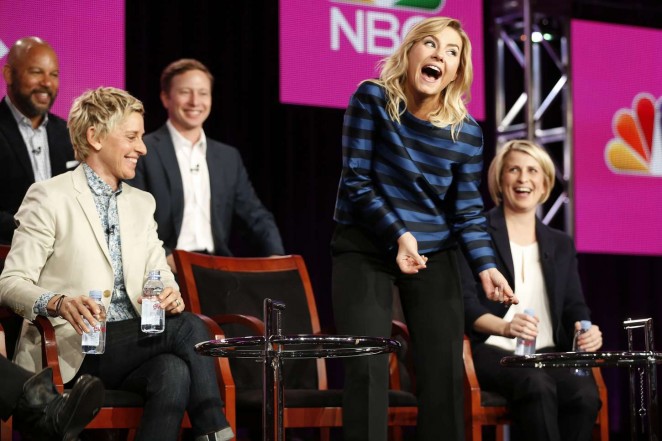 I once wrote a book called "Truth and Rumors" (American publisher; American spelling). It dealt with myths and urban legends and television. Amazon still lists it here, but don't blame me for what they're charging. Guess it's a collector's item now.
I bring this up as it relates to a report Tuesday that TSN may be facing a defamation lawsuit from Toronto Maple Leafs captain Dion Phaneuf and his wife, actress Elisha Cuthbert. This comes after the sports network ran a tweet from a viewer on a crawl during their marathon trade deadline coverage Monday. The tweet breezily implied Cuthbert was having an affair with another member of the team.
I was more shocked when I heard the same rumour at hockey a week ago Tuesday. These are guys I've played with for years, a great group who play for the Brampton Teacher's league.
Now: I know Jerry Mathers did not die in Vietnam even though that rumour shot around the schoolyard at Our Lady of Peace in Etobicoke back in the late '60s. I know Johnny Carson did not say to Raquel Welch, "I'd like to, but the damn cat's in the way," when she appeared on The Tonight Show and asked if he wanted to pet her, uh, cat.
When I asked him about it several years ago, Carson's sidekick Ed McMahon swore that really happened. It absolutely did not. There is plenty of proof that false rumours can spread and go viral and the wilder, the better.
I've interviewed Cuthbert for more than half her life–since she was a plucky teen from Montreal hosting PMK: Popular Mechanics for Kids. I've watched her grow up on U.S. network press tours as she promoted 24, her recent sitcom Happy Endings and, just last January, her new comedy One Big Happy. I've seen her, years ago at a Fox party, bum cigarettes off the dudes on That '70s Show and found myself reacting like a parent. I'm always impressed with her during interviews and admired her good nature and her professionalism.
When I've tried to ask her about the Leafs or Phaneuf lately, however, I've noticed that she immediately clams up. It's a shame–whenever two or more Canadians gather at a press tour event, the subject of hockey always comes up. This kid I've watched grow up is married to the captain, for Pete's sake, but is spooked about talking about it even with Canadian reporters.
I get it, though. This isn't the first time Cuthbert has had her name dragged through the mud. It does seem that the higher up somebody like Cuthbert goes on a Maxim hot list, the more people will buy into a salacious fantasy.
All I can say is she's beautiful, and bright, and talented, and Canadians should be very proud of her. We should cut both these kids some slack when they try, against tough odds, to aim for their own happy ending. Cuthbert works hard at commuting back-and-forth from L.A. to Toronto and squeeze in as many Leafs games as she can. The two summer in P.E.I. and if this was England they'd be Royals.
As for TSN, they need to apologize loud and long and act less like TMZ. And good on Phil Kessel Tuesday for standing up for his captain.