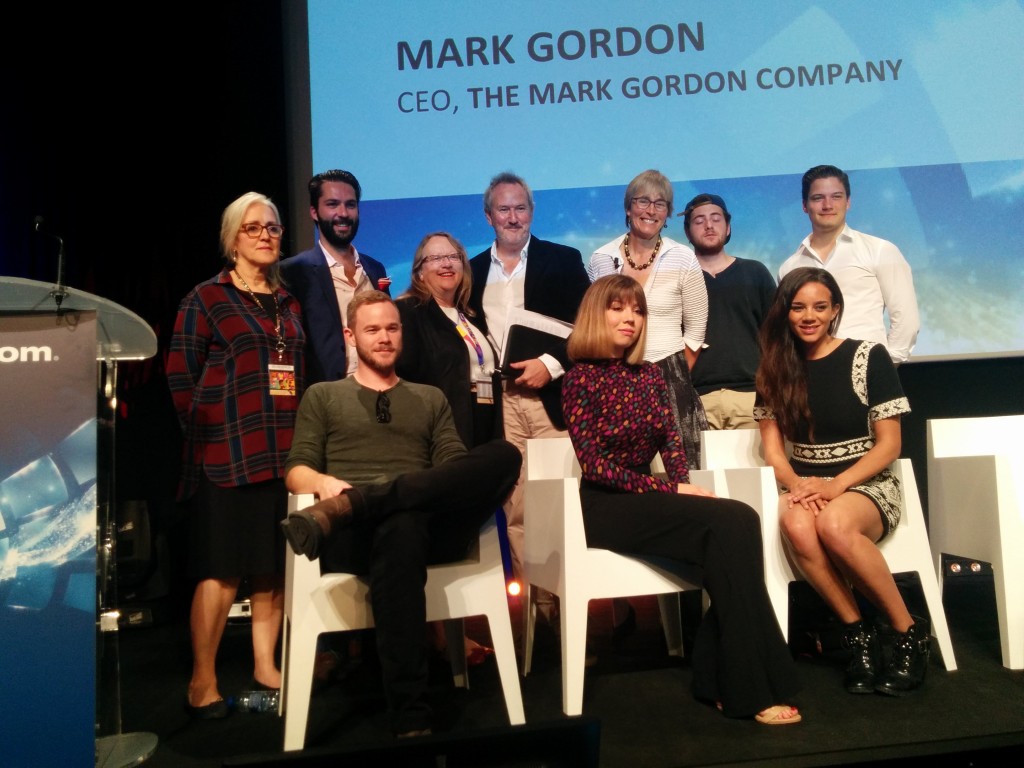 CANNES, France–"Geek culture is taking over." That was the message Aaron Ashmore brought to Cannes Tuesday along with fellow cast members from Killjoys and Between.
Ashmore wasn't talking about reporters like me who get to hang with the buyers and sellers this week on the French Riviera. The 35-year-old B.C.-native was explaining the appeal of the two Canadian-produced series among younger TV viewers. Over the years, especially after having played Jimmy Olsen on Smallville (plus his twin brother Shawn's series of X-Men films), Ashmore has seen fan reactions at places such as Toronto's Fan Expo and San Diego's Comic Con. He was amazed last year at how sci-fi fans in Toronto knew all about Killjoys–a Space series about intergalactic bounty hunters–before the series had even launched.
Telefilm Canada and the Canadian Media Fund (CMF) brought the two shows to MIPCOM as part of their efforts to showcase Canadian talent on this world stage. The Tuesday morning session was entitled, "The Allure of Escapism: Engaging Millennials." Telefilm had issued a release earlier with data showing sci-fi shows Killjoys, Between, Orphan Black and Dark Matter had all performed above their respective channel averages in the past year, especially in the 18 – 34 demo.
John Young, managing director and partner at Temple Street Productions, said the budget on special effects-laden Killjoys is "well north" of CAN$2M per episode. The series was created by Michelle Lovretta, who previously cooked up Lost Girl. Ashmore says production begins on season two in Toronto in late November. "Toronto doubles for space quite well," quipped Ashmore.
Between is also heading for a second season on both Rogers and Netflix. David Cormican, EVP at Don Carmody productions, says all Between scripts were written well in advance allowing for the series to be block shot. This helped producers crank out feature-film quality episodes on a TV dime.
The series is the first sci-fi show commissioned by Netflix. Between is about a world where everyone over 22 starts dropping like flies. Stars Justin Kelly and Jesse Carere say they are exploring a world without parental supervision. No wonder millennials are engaged!
Stars from both shows say they are very involved in promoting their series on social media, sending peeks behind the scenes out on Periscope and even tweeting with fans during commercial breaks.