Good grief! Has it really been 50 years since I first watched, along with millions of others, A Charlie Brown Christmas?
I was already, at eight-years-old, Charlie Brown crazy. I would read the Peanuts comics in the Toronto Star every day and cut them out and paste them in a scrapbook. My mom would take me to the Loblaws at Six Points Plaza and while she did the grocery shopping I would sit by the magazines and read the latest Peanuts' Fawcett Crest paperback. They cost four dimes. That doesn't sound like much, but remember, psychiatric help was only five cents back then.
I read them cover to cover and then read them again. The ink they used on those covers, the reds, greens and yellows–I would smell them all the way home. I kept buying them even when they jumped way up to 50 cents.
On the back cover of one or two of the books there was a photo of Charles Schultz. He had a brush cut, wore a white shirt with a black tie and had glasses. At some point I figured out I would turn 43 in the year 2000 and I was pretty sure that is what 43 looked like.
The anticipation of seeing that first Peanuts animated special on Dec. 9, 1965, was intense. I watched it on the black and white, 19-inch Marconi TV my parents had in the living room at 5308 Dundas St. West in Etobicoke. I remember it was "brought to you by the bottlers of Coca-Cola." I thought that was a nice thing for those bottlers to do.
Producer/director duo Lee Mendelson and Bill Melendez felt they had "ruined Peanuts" prior to that first airing on CBS. As Mendelson told a room full of adoring TV critics in 2002, "Too slow, too religious. What's the jazz music doing on there?"
Sitting there in my PJs, bathed and ready for bed, I couldn't believe how perfect it was. The characters looked like they had been animated by Schulz himself. The child actor voices matched perfectly. Even Snoopy's weird yelp–a sped up recording of Melendez' voice–sounded right.
When Charlie Brown and the others went into the school auditorium to work on the Christmas play, it seemed pretty much the way things happened at Our Lady of Peace school in Etobicoke. There was a Pigpen at my school, and a Lucy, and a Linus. Norm Kurczyk's little sister looked just like Norm with a smaller head and longer hair, just like Charlie Brown and Sally. When adults spoke at OLP, they might as well have been making trombone noises.
It would have been so easy for the producers to have missed with the soundtrack. They could have had a guitar band give it all a faux Beatles groove. When they were in the studio in San Francisco in mid-'65, recording the kids' voices, The Jefferson Airplane were in the next studio working on an album. It could have gone in a much trippier direction.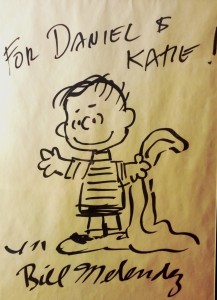 Instead, Vince Guaraldi's jazz trio knocked out a score so simple and yet so sophisticated it still appeals to young and old today.
When it was over, there was no watching it again on YouTube or PVR or even video tape. You couldn't catch it again on the West Coast feed. It was way better than that. You carried it to bed, whole, in your mind. You re-lived it all, frame-by-frame, in the school yard the next day. It stayed with you for weeks, as did the music.
ABC celebrates the Peanuts TV milestone with an 8 p.m. retrospective Monday: "It's Your 50th Christmas, Charlie Brown." Kristen Bell hosts, Kristen Chenoweth sings and so does Sarah McLachlan and Boyz II Men. At 9 p.m., a digitally remastered version of the original special airs. CBC and YTV will show it later in December.
It is remarkable "A Charlie Brown Christmas" continues to be showcased on broadcast network TV 50 years later (although lately it seems more remarkable network TV still exists). Schultz himself may not have been surprised. He told Mendelson and Melendez that he felt there would always be a market for innocence. And that's what Christmas is all about, Charlie Brown.