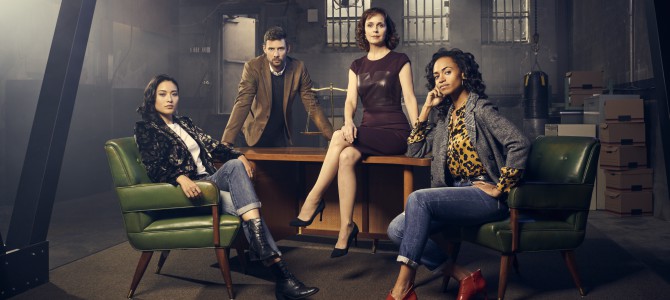 Tonight marks the season — and now the series — finale of Street Legal the reboot.
CBC announced over the weekend that the law drama starring original cast member Cynthia Dale would not be returning for a second season.
It was a surprising decision coming as swiftly as it did, but, in my opinion, the right call.
In the end, it is the audience who decides. Street Legal simply did not find one. In overnight estimates, the series never cracked the 400,000 national viewers barrier and had slipped to about half that, going 376,000, 341,000, 306,000 and down to 208,000 before rebounding slightly in Week Five (featuring guest star turns from Allan Hawco and Dale's fellow original cast mate Eric Peterson) to 276,000.
Clearly, the Live+7 bump wasn't enough to suggest this was one of those homegrown shows Canadians PVR first and watch later.
After a fairly concentrated marketing and media push, what went wrong? For one, re-booting a series last seen a quarter century earlier is far from automatic. Most of the original fans, for one, have now aged outside the demographics.
Plus, it was never a true reboot. The series should have been called something else: perhaps Olivia Novak after Dale's character or Street Legal: The Next Generation. You can't take one character from an old show and call it by its old ensemble title. Would the reboot of Roseanne or The Conners have worked, for instance, if it had only featured Sara Gilbert's character, Darlene? That show came back surprisingly strong after 25 years, to some degree because they all came back (even though one of them — the main star even — was heaved). That cast pulled in the old audience and great writing and acting drew a new generation of viewers who stuck through a difficult creative transition.
Even if you get the cast back and the chemistry right a reboot still has to fight through the same clutter today as every other show. It helps to have some name recognition to open a series; Street Legal did not appear to be a brand with that kind of staying power.
Even if you have a once strong brand, it may be well past its sell before date. Most of the Murphy Brown cast came back, but audiences were no longer buying it.
The other handicap Street Legal had was trying to re-establish itself in just six episodes. This series might have found its feet in episode seven or eleven but it was only just getting there when the plug was pulled. It seemed like two separate shows to me; you had saucy Olivia's fall from grace, start from scratch and can-she-do-it again storyline mashed together with a new generation of hard-hustling law turks. It was an awkward alliance, as the series established, and did not seem like one that would carry through from one season to the next.
It fell to seasoned co-creators Bruce M. Smith and Bernie Zukerman to pull these divergent components together. It was a tall task, requiring some tricky emotional leaps in writing. Steve Lund (Bitten), who played new law team investigator Adam Darling, had a harrowing family storyline that came to a head just last week. As dramatic and as effective as it was, that was a powerful No. 2 story that seemed to swamp that week's primary courtroom scenes.
Smith and the writers wisely ditched the more soapy, sometimes teasing tone of the original. When she wasn't trying cases, '80s Olivia was often trying out other law partners. The new series took a less high-heeled approach but also lost in the translation was some of the playfulness of the original.
There wasn't much aspirational about the new series, either, with the new law team working out of what looked like, at times, Hitler's bunker. The new office was so dark it looked like Under the Street Legal. You felt sorry for these new law kids saddled with all those student loans and no money left over, apparently, for light bulbs.
Lund was very effective throughout, and Dale, Cara Ricketts and Yvonne Chapman all had their moments, but the shift in focus never came together in this series — at least, not for me. Olivia the saucy law diva could still have beguiled as a mature legal avenger, but this court never seemed to have the right spark.