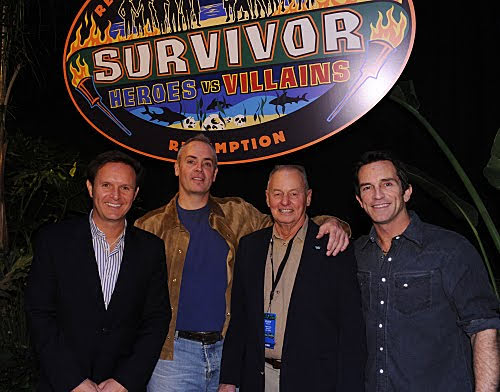 Snuff out the Tiki torch and toss away the Doritos. Rudy Boesch has left the island.
The grizzled Navy SEAL veteran and inaugural Survivor contestant passed away Nov. 1 at 91.
Boesch and the 15 other Survivor originals were a sensation when the reality show premiered in the summer of 2000. I was in my first year as TV columnist at The Toronto Sun and spent every week recapping the highjinx from the previous night's adventures on the South Pacific island.
At 72, Rudy was the oldest contestant ever, extending that boast three years later when he returned for Survivor All-Stars at 75. He made it to the final three the first go round, and was voted the most popular contestant at the time of his ouster. That first season finale episode was watched by over 50 million CBS viewers.
I met and interviewed Boesch at a Survivor 10th anniversary party held inside a giant soundstage at CBS Television City in Los Angeles. At that point there had already been 19 editions of the series and there were over 200 ex-Survivor contestants in attendance. It remains incredibly popular in Canada and the United States. The series is now approaching 20 years and 40 editions. It was the fourth most-watched show in English Canada the final full week of October.
When I caught up with Boesch he was 82 and still convinced her could take any new punks in a Survivor showdown. Executive producer Mark Burnett, however, said he felt Boesch was just too old to compete in a game known to take a severe toll on competitors. Boesch admitted he lost 30 lbs in that first Survivor stint. Still, he dismissed the more recent editions as "a bikini contest," suggesting the players get "a big meal now every week."
Crusty Rudy flinched when I asked him to pose for a photo with his old Survivor 1 nemesis Richard Hatch. "As long as he keeps his hand on my shoulder," he spat. Then Hatch put his arm around Boesch and the two smiled for the cameras (above).
Hatch was the winner of that first contest, stripping naked while roaming the beach during the series and making no secret of his sexual orientation. This spooked military lifer Boesch, who nevertheless came to admire Hatch and even formed an alliance with him during the run of that first season.
Boesch's blunt talk was not very politically correct. "The homosexual, he's one of the nicest guys I ever met, and he's good at what he does," Boesch said of Hatch. He added that the two "got to be pretty good friends," but "not in a homosexual way, that's for sure."
Rudy, Rudy, Rudy. He got away with it because a) Hatch won and b) Boesch probably represented a lot of what traditional CBS viewers were thinking at the time. Boesch was part of that greatest generation, warts and all. He was a decorated war veteran who was one of the first ever chosen to be part of the elite SEAL program. His years of service dated all the way back to the Cuban Missile Crisis of the early sixties. He actually took a call from president John F. Kennedy as the U.S. mulled its invader forces options at that time.
That he would up a turn of the century, reality show legend is just what happens sometimes when you're not trying to be one. Rest in peace Rudy; the tribe has spoken.