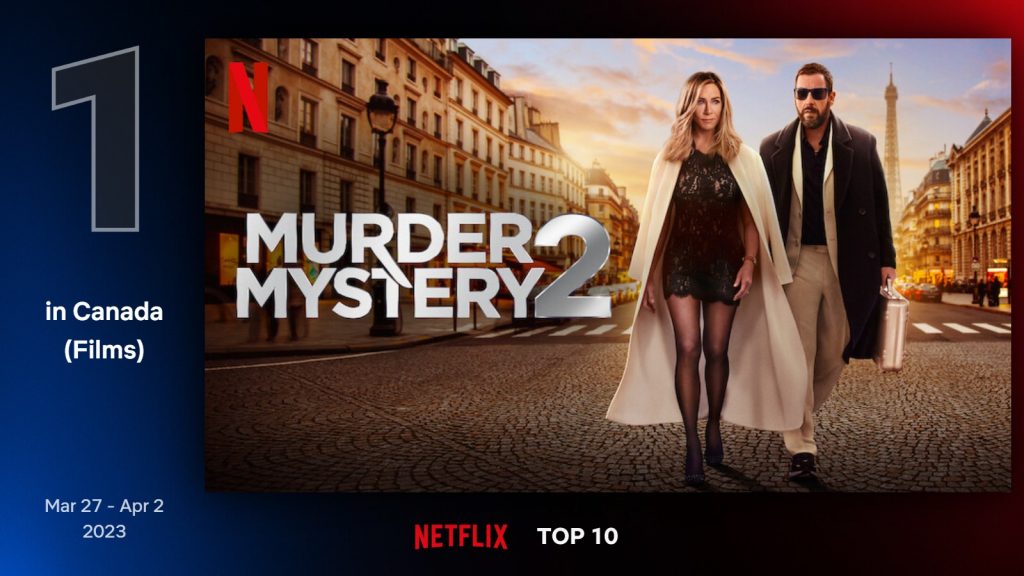 The Night Agent stays at No. 1 on Netflix in Canada for the second week in a row among all TV shows. The action-thriller has clocked an astounding 385M hours viewed worldwide on Netflix, becoming the most-watched TV thriller over on two weeks of viewing.
Love is Blind is right behind in the No. 2 spot. Fans of the reality dating series can find out what happened with the couples and singles on the series this coming Sunday when Netflix hosts, from Los Angeles, its first live, reunion special. It has been cleverly titled, Love Is Blind: The Live Reunion. How do they come up with these things?
Among movies, Adam Sandler's Murder Mystery 2 was Netflix's top draw among English films with 64.42M hours viewed, which ranks as the second-biggest opening weekend for a comedy film on the streaming service. The new movie also boosted viewing for Sandler and Jennifer Aniston's 2021 Murder Mystery film, which ranked as the third most-viewed on Netflix for the week.
The complete Top-10 most viewed shows on Netflix March 27 to April 2 are listed below:
MARCH 27 – APRIL 2, 2023
| # | TVIN CANADA | WEEKS IN TOP 10 |
| --- | --- | --- |
| 1 | The Night Agent: Season 1 | 2 |
| 2 | Love Is Blind: Season 4 | 2 |
| 3 | Emergency: NYC: Season 1 | 1 |
| 4 | Shadow and Bone: Season 2 | 3 |
| 5 | Wellmania: Season 1 | 1 |
| 6 | Who Were We Running From?: Season 1 | 1 |
| 7 | Unstable: Season 1 | 1 |
| 8 | You: Season 4 | 7 |
| 9 | Waco: American Apocalypse: Limited Series | 2 |
| 10 | Unseen: Season 1 | 1 |