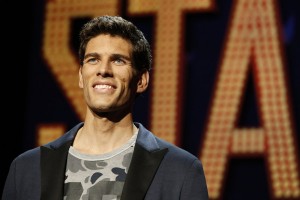 Have you been checking out the Canadian in the running for the title of Last Comic Standing? Vancouver lad Lachlan Patterson is in the final four heading into tonight's semis and next Thursday's finale.
He was among the talent crammed into NBC's TCA party last month in Los Angeles, along with fellow contender Rod Man. My ol' pal Andy Ryan at the Globe and Mail spotted them and we worked the duo together.
Getting near the top on Last Comic Standing certainly didn't hurt Gerry Dee's career. Mr. D made the Final Three in 2007. Sean Cullen and Debra DiGiovanni also scored Top-10 spots on past LCS seasons.
The show was off the air for four years before NBC revived it this summer. It's done well, already earning a ninth season order. Hiring big name judges Roseanne Barr, Keenen Ivory Wayans and Brampton's own Russell Peters has helped goose ratings, no doubt. I've noticed this season that all three judges offer good notes. Peters in particular seems constructive and generous.
Lachlan, as Andy noted, stands out because he works clean–not easy if you've ever wandered into the scorched walls of The Comedy Store, the Sunset Blvd landmark where the language is even fouler than the air outside.
"I have friends who do comedy and I just tell 'em, look man, you can add the swears and the language, you can add that afterwards, but it's gotta work clean," says Patterson. "Do the joke clean, get the laughs, and then flip it to blue. Always be able to turn your joke clean. Don't write a joke that can only be dirty."
Patterson says comics have to be prepared if asked by a scout or producer if they can clean it up for television.  "I got a copy right here," is his ever-ready response.
His favourite joke? Patterson offers a gem from the late, great Mitch Hedberg: "When I'm lying in bed and I think of something funny, I write it down. Or, if I can't find a pen, I just try to convince myself it wasn't that funny."
Cheer him on tonight on NBC and read more on Patterson at this story I filed today for The Canadian Press.