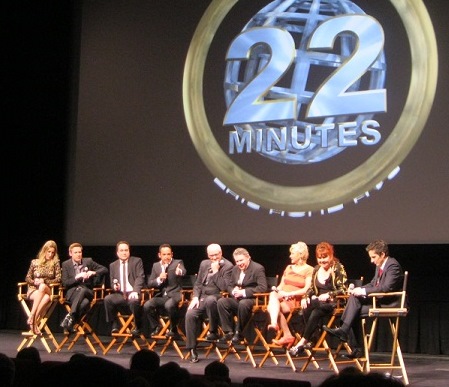 Thursday in Toronto, a comedy Who's Who packed into the Bell Lightbox to celebrate 22 years of This Hour Has 22 Minutes.
Half of Newfoundland seemed to make it down to the Bell Lightbox for the salute. The Pope (Gordon Pinsent) and the ex-premier (Danny Williams) were both in the house, as was every 22 Minutes fake news anchor over the years save original desk man Rick Mercer (who sent greetings via a clip shown on screen) and Geri Hall. Comedy peers Don Ferguson (Royal Canadian Air Farce), Peter Keleghan, Scott Thompson (Kids in the Hall) and others were in the audience, with Mark McKinney, Eugene Levy and Catherine O'Hara paying tribute via video.
I arrived late but ducked in in time to see Greg Thomey take the stage. Thomey cracks me up with his baffling rhythm and timing, neatly skewered by Mark Critch later in the presentation.
About 20 years ago, as a TV Guide reporter, I spent a week in Halifax observing how the cast and crew threw a show together every week. They literally start with newspaper headlines Monday and finish with a live TV taping Friday. It's a Saturday Night Live level comedy commitment, all on a Canadian dime.
Founding member Mary Walsh made her usual noisy entrance Thursday as Marg Delehunty. She kibitzed with fellow comics in the crowd (including Thompson) before warning people not to Google search the words shomi and crave. "It's not a pretty picture," she declared, unless you're really into porn. Clips were shown of Marg stalking human targets Mike Duffy as well as Rob Ford, which got a big roar from the crowd.
Shaun Majumder repeated a bit I saw him do last week at Brampton's Rose Theatre, goofing on being a Canadian celebrity. That's where a guy like Majumder gets mistaken for Ian Hanomansing or–much worse–Jian Ghomeshi. Majumder pointed out Ghomeshi was somebody he just played on TV–and will never play again, at least not on CBC.
Fellow Newfoundlander Jonny Harris moderated a panel of anchors in a closing Q&A. Cathy Jones, the only cast member to perform over the entire run of the series, was joined on stage by Colim Mochrie, Gavin Crawford, Susan Kent, Critch, Majumder, Walsh and Thomey. Producers, writers, directors and other crew members past and present also made the scene.
Some great clips were shown, with the series many nervy ambushes of politicians standing out. Jean Chretien showed great comedy chops opposite Mercer in an early clip but then opposition leader Stephen Harper getting lipstick smeared by Walsh as Delehunty has t0 be seen to be believed.
And you can see it, this Tuesday, when This Hour Has 22 Years airs at 8 p.m. ET on CBC.