PASADENA, Calif.–I was sitting through a TCA session on the upcoming Fox drama Wayward Pines when the news reached my Twitter feed: Don Harron had died.
There had been word he was not in good health. Harron was 90.
I probably first discovered him on Hee Haw. The creators of that show were Canadian, Frank Peppiatt and John Aylesworth. Pressed, in 1969, to come up with a country-themed variety show as a quick summer replacement series (for the Smother Brothers, who CBS had just fired), the producers drew on some Nashville veterans but also a couple of Canadians, Gordie Tapp and Harron. On the series, Harron was always in the guise of his most famous character, Charlie Farquharson. Hee Haw ran nearly 20 years, mainly in syndication, and Charlie's one-liners (he was the KORN radio guy) were a highlight on the show.
Harron had already been honing his Farquharson shtick for nearly 20 years. He introduced the character at Spring Thaw in 1952. It was so long ago it was funny–not cottage-country cool–that the hayseed character supposedly hailed from Parry Sound, Ont.
I was a kid in grade school when I first laughed at Harron/Farquharson. By high school I bought copies of his "Histry of Canada" and "Jogfree of Canada" and even the "K-O-R-N-filled Allmymack." It was the pun-y word play that drew me in, as it must have tickled and inspired Ron James and Steve Smith and many other comedians.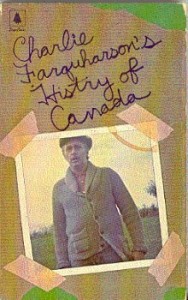 It was only later that I discovered Harron co-wrote (with James Costigan) the script for the musical version of Anne of Green Gables, that he performed in the inaugural season of the Stratford Festival, that he was such a player in the early days of Canadian television.
By the time I got to college, it was Harron who was the host of CBC Radio's Morningside. I was never a Gzowski guy; Harron was my CBC morning man. He was curious and erudite and very deferential to guests but also, best of all, funny. After that, in the mid-'80s, Harron brought his charm and class to a daytime CTV talk show. At this point, you had to ask–was there anything this guy couldn't do?
Around 20 years ago, my father-in-law was tasked with coming up with finding an act to perform at his company's annual Christmas party. I had seen Harron do his Charlie shtick at a similar event. Working at TV Guide at the time, and having recently interviewed Harron for an article, I was able to track him down and arrange the booking.
He arrived on the given day in full Charlie regalia, wearing the same cap he wore all those years ago at Stratford. The same torn, moth-eaten sweater too, I think. I emceed the event and Harron's only instruction to me was to introduce him only as Farquharson. There must be no reference to the actor under the hat. It seemed very important to Harron that he and his alter ego must never be in the same room at the same time.
He killed at the party. Home computers were just taking off back then, and instead of Apple, the big early player was IBM–or as Charlie called his laptop, "One B M." He told big, broad jokes but in character. By that point, albeit in a quieter, Canadian way,Farquharson was as iconic to me as Hulot, Mr.Bean or Pee-wee Herman.
About a dozen years ago or so, while I was at the Toronto Sun, I interviewed "Rockin'" Ronnie Hawkins at Toronto's Royal York Hotel. The Hawk was in full flight, just filling my tape recorder with yarn after yarn.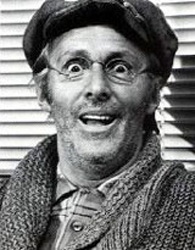 He eventually needed a cigarette break and walked me out the front door of the hotel. We're standing on Front Street, and who should coming walking along but Don Harron. I remember thinking we were just William Shatner, Neil Young or Pierre Berton away from a Canadian stamp.
My last encounter with Harron was just as unexpected. Six or seven years ago, my son Dan was in the cast of a production of Anne of Green Gables performed at the Rose Theatre in Brampton. There in the audience, a few rows away and now into his 80s was the author–Don Harron. If he could get to an opening night of his play, he told me, he made the effort.
He seemed genuinely pleased with the production and was very generous with the young actors at the end of the performance, offering nothing but encouragement. It was a nice moment, one to treasure.
I think I tried to explain to Dan later it was a little like Gordie Howe telling a group of hockey kids, "good game."
Condolences to Harron's friends and family.