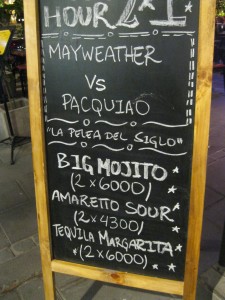 SANTIAGO, Chile–I can report that the fight of the century was just as big a dud in South America as it was in North America.
There were plenty of seats left in the bar in Santiago where I watched the fight live Saturday night, up on five large monitors for the cost of two "Big Mojitos" and a plate of nachos.
The Mojitos cost 6000 Chilean pesos–roughly twelve bucks Canadian.
By my count that worked out to a dollar per punch. The punch at the bar had more punch than this fight.
I had expected more of a groundswell behind Manny Pacquiao from the locals but the locals seemed uninterested, barely  tolerating this interruption in the soccer broadcast schedule. Besides, Manny from Modern Family would have put up more of a fight. Suggestions to switch to the Stanley Cup playoffs were met with blank stares and mutterings of, "Gringo loco."
By the way, they have Turner Classic Movies in the hotel I'm staying in down here–you seldom find it offered in American hotels.