This week, I talk to CHML's Scott Thompson about my interview this week with William Shatner. The original Star Trek skipper was in Toronto to guest star on an episode of Murdoch Mysteries when the CBC drama returns for a ninth season next October. Shatner will play famous American author Mark Twain.
Scott asks what Shatner is like. It's one of those questions journalists should know better than to answer. I've spoken to the 84-year-old TV icon many times now, on the phone and in person–about TV shows, CDs and even commercials–but how do I know what he is really like? I can say he's a very engaging interview who always winds up giving you a story, even if sometimes you have to fight him for it.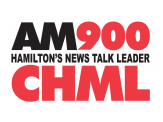 That's what happened this week when I kinda pissed off The Captain. Set phasers for stun! It was all a misunderstanding but I was glad I got a second opportunity to speak with him and clear things up. You can listen to the whole sordid story here.